Coffee with Caleffi™ Balancing Success Stories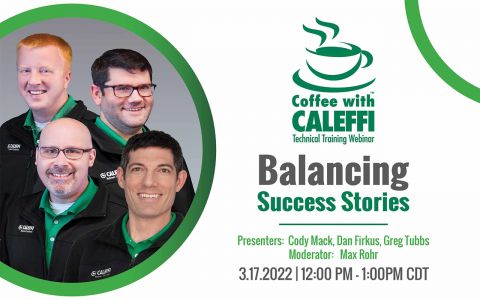 Ripped from the headlines of Caleffi's Case Study library, an examination of puzzling hydronic and domestic hot water job sites that had tricky balancing concerns to overcome will be discussed. In a panel format, the Ask Caleffi Team will analyze these real-life balancing projects at the next edition of Coffee with Caleffi™ on Thursday, March 17 from 12 noon – 1:00 p.m. CDT. Learn the outcome of these complicated stories and learn how issues were resolved… successfully!
Moderated by Max Rohr, the Ask Caleffi panel includes Cody Mack, Greg Tubbs and Dan Firkus. Collectively, this A-Team assisted our partners with these projects before, during and after completion.
The "A-Team" is comprised of:
Cody Mack, Hydronics Product Manager
Greg Tubbs, Application Engineer and host extraordinaire of the Ask Caleffi podcast
Dan Firkus, Application Engineer and Intel investigator of the Ask Caleffi podcast
Max Rohr, Education and Industry Engagement Manager
The monthly educational webinars are free and are intended for engineers, contractors, designers and wholesalers. A Certificate of Attendance is emailed to attendees following the event for continuing education audits.
Please visit our website at www.caleffi.us for schedule details and registration.