Coffee with Caleffi™: Comparing Thermostatic and Electronic Master Mixing Valves for Domestic Hot Water Control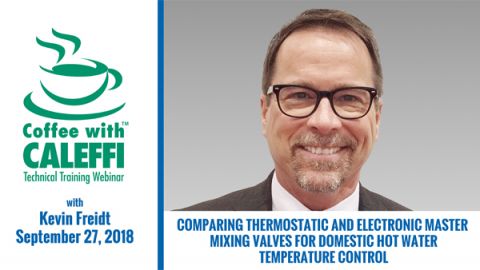 Whether a simple supply-only or a complex multi-branch commercial domestic hot water system with recirculation, the key to delivering reliable hot water temperature is in the point-of-distribution mixing valve. Are there practical guidelines to assist you in choosing the most suitable mixing valve for your DHW application? Kevin Freidt, director of product management and technical support, will take an in-depth look at the design and functional differences, performance and accuracy, sizing and selection, service and maintenance considerations and application of these valves at the next Coffee with Caleffi™ webinar on Thursday, Sept. 27 at 12 noon CDT.
Freidt is the intellect behind sizing up the best product offerings in a moving target market and manages an exceptional technical support team. He has a B.S. in Mechanical Engineering Technology, 30+ years' of experience in the commercial HVAC industry and is a LEED AP. Our audience will thoroughly appreciate his academic passion and concise content delivery.
The one-hour educational webinars are always free and are intended for contractors, designers and wholesalers. A Certificate of Attendance is emailed to all attendees following the event for continuing education audits. Please visit our website at www.caleffi.com for schedule details and registration .