Coffee with Caleffi™: Demystifying Smart Pumps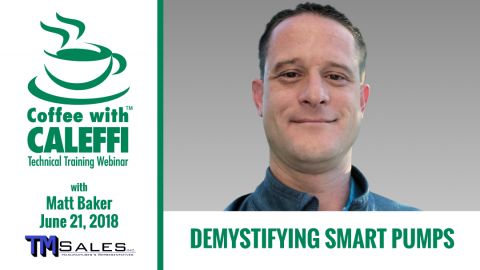 With manufacturers of smart pumps increasing their offering of ECM pumps in the North America market, how should these pumps be applied and controlled in various types of hydronic and domestic water systems? Matt Baker, sales associate for our manufacturers' representative TM Sales, joins the Coffee with Caleffi™ webinar series on Thursday, June 21 at 12 noon CDT to shed light on the intriguing importance of these modern day pumps.
Having nearly 20 years' of industry experience and providing 2000+ hours of ECM – a.k.a. "smart" pump – training, Baker is looking forward to his cameo appearance on the popular webinar series. He's worked with Grundfos and various manufacturers' representatives in the hydronics and plumbing industry. Today he pounds the pavement for TM Sales Inc. (Arvado, Colo.), sharing his knowledge and enthusiasm on a daily basis.
The one-hour educational webinars are always free and are intended for contractors, designers and wholesalers. A Certificate of Attendance is emailed to all attendees following the event for continuing education audits. Please visit our website at www.caleffi.com for schedule details and registration.