Coffee with Caleffi™: Domestic Hot Water Recirculation in High-Rise Buildings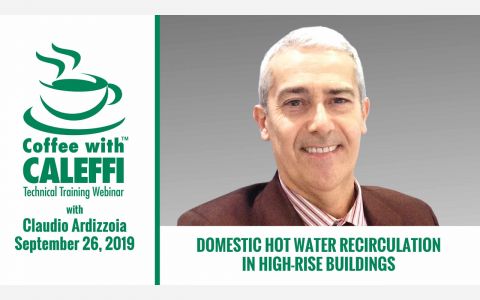 Recirculating domestic hot water (DHW) in high-rise buildings poses challenges that do not exist in lower profile buildings. Our guest speaker, Claudio Ardizzoia, Caleffi Global Headquarters lead product manager, will discuss the challenges related to high-rise DHW recirculation, review solutions for proven design concepts and provide guidelines for proper product selection at the next Coffee with Caleffi™ webinar on Thursday, Sept. 26 at 12 noon CDT.
Ardizzoia is a mechanical engineering graduate, specializing in HVAC systems. His 30+ years' of experience includes design engineering, field management, technical documentation and his passion: R&D of new products and applications. Ardizzoia is instrumental in the certification and approval process of products and is an active member of The European Committee for Standardization (CEN) and the TC 164WG2, a technical committee dedicated to the prevention of Legionella.
The one-hour educational webinars are free and are intended for contractors, designers and wholesalers. A Certificate of Attendance is emailed to attendees following the event for continuing education audits. Please visit our website at www.caleffi.us for schedule details and registration.