Coffee with Caleffi™: Fundamentals of Heat Metering in Hydronic Systems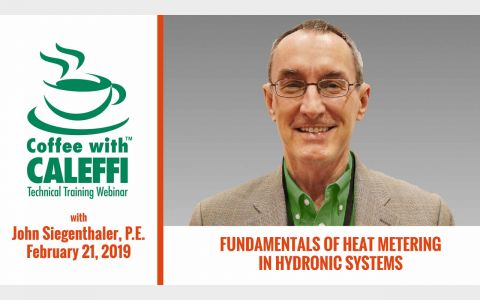 Heat metering has practical applications including apportioning energy costs to multiple customers served by a central system based on individual consumption. Another common application is verifying if a heating (or cooling) source is producing its expected thermal output. With the recently defined ASTM E3137 Standard Specification for Heat Meter Instrumentation, the stage has been set for the standard to appear in specifications and job requirements in North America.
John Siegenthaler, P.E. kicks off the 2019 webinar series to elaborate on the benefits of heat metering including concepts and illustrations of practical applications at the next extended edition of Coffee with Caleffi on Thursday, Feb. 21 at 12 noon – 1:30 p.m. CST.
A seasoned industry leader, passionate teacher and a favorite guest speaker to the popular webinar series, Siegenthaler shares his over 35 years' experience in the understanding and proper application of water-based engineering principles. He is the principal of Appropriate Designs and a regular contributor to industry publications Plumbing and Mechanical, PM Engineer and HPAC magazines.
The one-hour educational webinars are free and are intended for contractors, designers and wholesalers. A Certificate of Attendance is emailed to attendees following the event for continuing education audits. Please visit our website at www.caleffi.com for schedule details and registration.