Coffee with Caleffi™: Plumbing Expert Julius Ballanco Returns to Webinar Series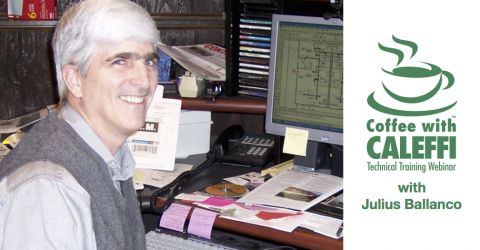 Guest Speaker Julius Ballanco, P.E. and President of JB Engineering and Code Consulting, P.C. returns to the Coffee with Caleffi™ webinar series on Thursday, July 28 at 12 noon CDT. He will focus discussions on the science of pressure reducing valves used in plumbing systems.
A graduate of Stevens Institute of Technology, Ballanco is both a registered Professional Engineer and licensed Master Plumber. Ballanco's firm specializes in code and standard consulting in the areas of plumbing, mechanical, life safety and fire protection engineering. He is a well-known lecturer and a monthly columnist in both Plumbing & Mechanical and PM Engineer magazines.
The one-hour educational webinars are free and are intended for contractors, designers and wholesalers. Please visit our website at www.caleffi.com for schedule and registration details.
CALEFFI – Creating innovative, superior performance products that help customers live comfortably and economically, while softening their impact on the environment. For more information, visit Caleffi's Web site at www.caleffi.com, e-mail, or call (414) 238-2360.