Coffee with Caleffi™ Webinar Series: Decarbonization of Built Environment with Hydronic Systems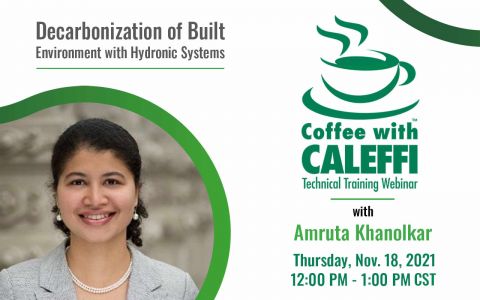 Today, building decarbonization is receiving a great deal of press. While the grid is steadily transitioning from fossil fuels to clean renewable energy, what is the role buildings can play in supporting city and state climate action plans, policies and the need for flexible loads on the grid? Guest speaker Amruta Khanolkar of the New Buildings Institute (NBI) will discuss the role hydronic systems can play to decarbonize space and water heating end use in the built environment at the next Coffee with Caleffi™ webinar on Thursday, Nov. 18 from 12 noon – 1:00 p.m. CST.
Khanolkar is a Senior Project Manager at NBI. Her expertise includes emerging technologies, measure development, building energy, life cycle analysis and zero energy design. Khanolkar's role at NBI involves work related to codes and standard advancement as well as new metric development. She has a Master of Science degree in Energy Efficient and Climate Responsive Built Environment from Arizona State University.
The monthly educational webinars are free and are intended for engineers, contractors, designers and wholesalers. A Certificate of Attendance is emailed to attendees following the event for continuing education audits.
Please visit our website at www.caleffi.us for schedule details and registration.