Coffee with Caleffi™ Webinar Series: Fundamentals of Pressure Reducing Valves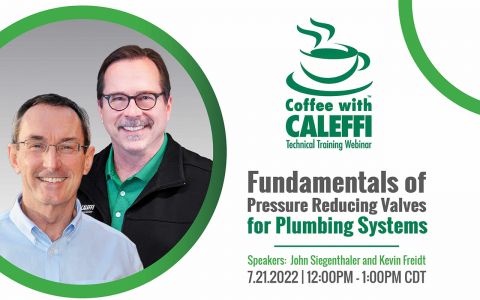 Maintaining water pressure within an acceptable range is vitally important in all types of building plumbing systems. Unregulated systems can cause high mechanical stress on system components, flow noise, valve cavitation, water hammer and uncomfortably high flow rates from faucets and shower heads. Max Rohr and Kevin Freidt welcome industry icon John Siegenthaler, P.E. to discuss pressure reducing valve applications and design best practices. This edition of Coffee with Caleffi™ will be on Thursday, July 21 from 12 noon – 1:00 p.m. CDT.
Siegenthaler is a seasoned industry leader and passionate teacher, eager to share his over 40 years' experience in the understanding and proper application of water-based engineering principles with our audience. He is the principal of Appropriate Designs and a regular contributor to industry publications.
Freidt is the director of product management and technical support at Caleffi North America. He has a bachelor's degree in mechanical engineering technology, more than 30 years of experience in the commercial plumbing and heating industry. He was selected to conduct a technical presentation at the upcoming ASPE Convention and Expo in Indianapolis in September.
Rohr is the education and industry engagement manager at Caleffi North America leading interactions with trade associations, committees, industry initiatives and collaborative manufacturer partners. Rohr – a self-described "energy nerd" – has 20+ years of work experience in installation, distribution, manufacturers' representative and manufacturing roles.
The monthly educational webinars are free and are intended for engineers, contractors, designers and wholesalers. A Certificate of Attendance is emailed to attendees following the event for continuing education audits.
Please visit our website at www.caleffi.us for schedule details and registration.