Coffee with Caleffi™ Webinar Series: Proven Plumbing Systems from Both Sides of The Flange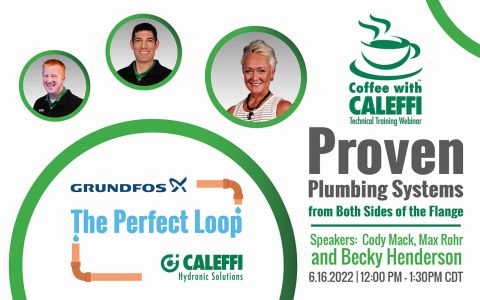 Optimal plumbing system design combines best practices on both sides of the flange. Designing, installing and maintaining perfect loops ensures that we deliver superior comfort, energy efficiency and reliability to our customers. Cody Mack and Max Rohr welcome Grundfos industry expert Becky Henderson from The Perfect Loop training series to discuss domestic hot water recirculation systems during the next extended edition of Coffee with Caleffi™ on Thursday, June 16 from 12 noon – 1:30 p.m. CDT.
The Perfect Loop is a hands-on and complimentary contractor training series that combines both companies' expertise in sustainable plumbing and hydronic technologies. In this special edition of Coffee with Caleffi, we are proud to offer the series in a convenient, virtual fashion.
Henderson is Grundfos lead key account manager and is responsible for seven representative agencies covering 13 states. She enjoys running, motorcycle riding and spending time with her daughter in her free time. Henderson has the innate ability to make learning fun and engaging.
Mack has nearly 20 years' experience as installation contractor, service technician, application engineer, training manager and now product manager for Caleffi. Our audience will appreciate his thoughtful yet humorous content delivery combined with his practical, common sense product approach.
Rohr is Caleffi education and industry engagement manager leading interactions with trade associations, committees, industry initiatives and collaborative manufacturer partners. Rohr – a self-described "energy nerd" – has 20+ years of work experience in installation, distribution, manufacturers' representative and manufacturing roles.
The monthly educational webinars are free and are intended for engineers, contractors, designers and wholesalers. A Certificate of Attendance is emailed to attendees following the event for continuing education audits.
Please visit our website at www.caleffi.us for schedule details and registration.