EVAPCO eco-Air™ Series, Ideal for Water Conservation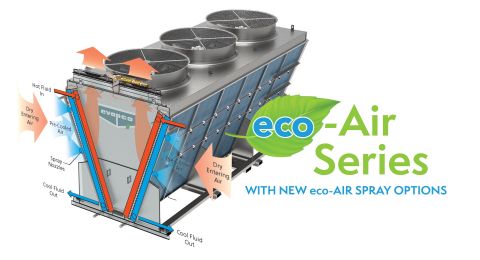 EVAPCO's newly-enhanced eco-Air™ Series of dry and adiabatic products provides broad flexibility for a wide range of capacities, footprints, motor types and controls. During peak load cooling, eco-Air spray coolers use 95% less water than traditional evaporative systems.
From the smallest factory-assembled cooling tower to the largest field erected air-cooled steam condensers, EVAPCO offers heat transfer products designed to meet the water and energy requirements for any project.
The eco-Air family of products provides a wide range of heat transfer solutions with minimal or no water use with V-coil or flat coil configurations. The series includes:
eco-Air Series dry coolers
eco-Air Series air cooled condensers
eco-Air Series adiabatic coolers and condensers
eco-Air Spray is the latest innovation. As ambient air temperature rises above the design dry bulb switchover temperature, the spray system activates, spraying water outwards against the direction of dry entering air – reducing the entering air temperature while increasing system efficiency. EVAPCO's eco-Air series of fluid coolers come standard with 304 stainless steel construction and aluminum fins, copper adiabatic piping for all adiabatic coolers, new adiabatic spray systems (a water savings alternative to adiabatic pads), and coated adiabatic pads for longer life and easier handling. All eco-Air coolers come factory wired and can be provided with optional controls.