Fieldpiece Instruments Once Again Takes Home Gold Award in the The NEWS Dealer Design Awards Contest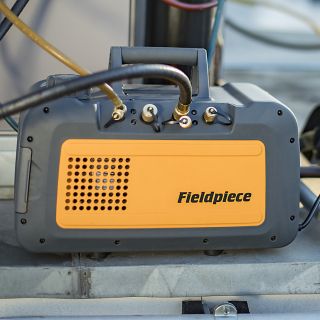 VP85 Vacuum Pump Wins Gold in the Electronic and Hand Tools Category 2018
Fieldpiece Instruments has once again been recognized for producing an outstanding product in the The NEWS Dealer Design Contest 2018 in the Electronic and Hand Tools Category. The VP85 Vacuum Pump took home the gold award this year and the MR45 Recovery Machine took home the gold award last year in the same category.
According to the magazine, the Dealer Design Awards are judged by 20 contractors from across the U.S. who are active in the industry and have their collective fingers on the pulse of what's happening. "The Dealer Design contest is truly a unique award because it is the only HVACR product competition that is judged by HVACR contractors, which is a true test for how good a product is," said Kyle Gargaro, editor-in-chief of The NEWS.
The award-winning VP85 8cfm Vacuum Pump has a DC motor and is designed for HVACR professionals who are pulling vacuum in A/C and refrigeration units either prior to adding refrigerant on a new installation or performing a system repair. The 8cfm DC motor allows for smooth running in colder weather and lower voltage. A unique feature of the Fieldpiece vacuum pump is the four in-line ports in three different sizes that allow for tidy hose routing and hose options. Another feature for the HVACR professional is the extra wide base to help prevent the pump from tipping and spilling oil.
With the Fieldpiece Vacuum Pumps, the HVACR professional can clearly view the oil condition through the large oil tank window. The oil backlight not only allows the technician to see the condition of the oil but also to see if the fill level is correct.
In addition, with the Fieldpiece RunQuick™ oil change system, the oil can be replaced in under 20 seconds, even without losing a vacuum while the pump is running. Another feature is the remote exhaust capability. The technician simply unscrews the exhaust cap and connects an obstruction-free garden hose to exhaust oil mist and vapor remotely to the outside of a building structure.
The 2017 award-winner, MR45 Recovery Machine features a smart, variable speed one-horsepower DC motor that minimizes liquid slugging and maximizes vapor recovery. The digital display is precise and easy to see, and the electronics are well protected for use in the rain, cold, and heat. Lightweight at only 22lbs, MR45 is also rugged with rubberized housing and rail slides for extra protection. These attributes, alongside glowing reviews from contractors and the panel of judges, helped the MR45 win the gold award in the Electronic and Hand Tools category of The NEWS' 2017 Dealer Design Awards.
Tina French, Marketing Manager Fieldpiece Instruments says, "To produce gold-standard products we used value engineering, quality engineering, focus groups, surveys, and beta testing during the research that went into the design of both the MR45 and the VP85. We're excited about being recognized by the contractors who judged the products in the Electronic and Hand Tools Category for these two products."