Fireside "Vertical Mount" Condensate Neutralizer Now Available Nationwide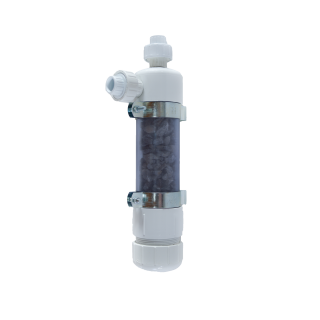 The Manufacturers of the Fireside Universal Condensate Neutralizers would like to announce that the Original "Vertical Mount" condensate neutralizer is now available coast to coast. We have added two "Easy Clean" tank neutralizers to our product line and now offer custom neutralizer manufacturing for your specific needs.
Our tube-type universal condensate neutralizers are available in 5 sizes and styles from 300,000 to 1.2 million BTUH. Our neutralizers are tough. They are built out of schedule 40 clear PVC and every unit comes with built in 3/4 unions and quick clamp brackets for easy removal and maintenance, no other kits to buy and install. Being 3/4" slip fittings, our neutralizing tubes are ready to accept any piping you prefer. In fact, we find other manufacturers trying to incorporate our designs into their products. Yet we are the only manufacturer to offer a 10 year warranty to the professional.
The patent-pending, universal vertical mount neutralizers are the original vertical neutralizers that allows for a vertical install where space is limited or where the appliances warrants it. After seeing our patent-pending unit, other company's were quick to release a vertical neutralizer that is simply a horizontal neutralizer with a screen in it and the inlet piping comes in from the bottom and out the top. This leads to more pipe and more space requirements. Our vertical neutralizer has the inlet on the top and the outlet on the side and is perfect for wall-mount appliances for a quick and clean install. The neutralizer also acts as a gas trap eliminating the need for a loop trap. The universal vertical neutralizer is available in 300,000 and 600,000 BTUH.
Our "Easy Clean" Tank neutralizers come in 4 million and 6 million BTUH. The tanks are built tough and with a lid that is the size of the tank and the lid is completely removable so cleaning and recharging is a breeze. Our Tanks are perfect for the commercial and industrial settings.
Fireside Universal Condensate Neutralizers are 100% American made and with keeping green are manufactured using all natural media that is 96-100% pure. There are no manufactured pellets are additives that contain glues and fillers that during neutralization break down. The media is now available in recharge packs for all of our neutralizers.