Greenlee® Introduces Its New Gorilla Pressing Tool Line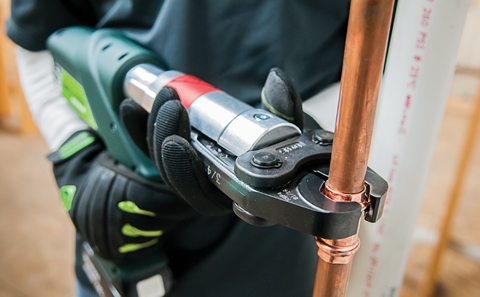 Greenlee Textron Inc., a Textron Inc. (NYSE: TXT) company, has launched a new line of Gorilla™ Pressing Tools designed for joining pipes safely by eliminating the need for an open flame and a hot work permit on the jobsite.
The Gorilla Pressing Tool line features two separate tool platforms: the inline battery pressing tool (INLNPRESS-TOOL19kN) and the pistol grip battery powered pressing tool (PSTLPRESS-TOOL32KN). Both tools quickly press watertight connections in three to four seconds. The tools can be used while a system is still wet, unlike with soldering, so the contractor does not have to drain the system and wait for it to dry before pressing. The inline pressing tool has a fitting capacity of 1-1/2 inches (38.1mm) on PEX and 1-1/4 inches (31.8mm) on copper and stainless steel, and the pistol grip pressing tool has a fitting capacity of 2 inches (50.8mm) on PEX and 4 inches (101.6mm) on copper and stainless steel. The tools have a patented twist and release pin, making jaw exchange even easier. The kits come with four jaws for the inline and six for the pistol grip.
Gorilla Pressing Tools utilize intelligence for accurate pressing and are designed with auto-stop technology, which automatically stops the piston when the optimal force is reached, sealing the fitting properly. Precise pressure monitoring and diagnostics ensure appropriate specifications for each fitting. The quick-stop feature built into both tools elicits an immediate stop to the piston once the trigger is released, safeguarding the user's hands from pinch points. The lightweight design, 350-degree rotating head and LED work light allow for both products to be used in dark, tight spaces.
The Gorilla Pressing Tool line is a high-quality solution for Faster, Safer & Easier® fitting installations from Greenlee. For more information, visit www.greenlee.com or call 1-800-435-0786.