HeatLink Launches New Smart System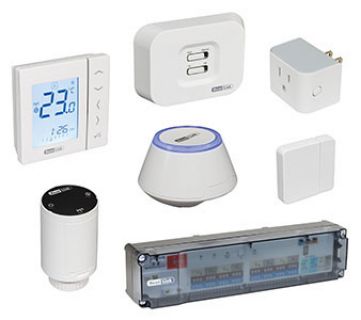 HeatLink is excited to announce the launch of its new Smart System. The Smart System provides wireless and app enabled control of HeatLink hydronic heating systems for residential and small commercial property owners.
Consumers around the world are embracing home automation systems and they want a system that's easy to operate and provides peace of mind when they are away from home. HeatLink's Smart System app allows for remote management of hydronic installations allowing owners to effectively control and monitor their system.
The HeatLink® Smart System uses the Zigbee Home Automation wireless protocol, ensuring a strong connection between all wireless devices, and a secure path to the HeatLink app. Without the need to run wires, installation and setup is easy and low cost, and adding devices to the system is hassle-free.
Products in the HeatLink® Smart System line include thermostats, zone modules, actuators and relays to wirelessly control a heating system. The addition of smart plugs and sensors expand the system into security and lifestyle. The Smart System can be controlled from anywhere with user friendly Web, Android and iOS apps, and is compatible with other third-party devices including Amazon's Alexa.
"We're excited about bringing this new control system to the market," says Manfred Schmidt President of HeatLink, "this is a notable example of our focus on offering innovative new products that are designed to meet the needs of our customers. I'm proud of the fact that we have a system that is both easy to install and simple to use". Schmidt continued, "our HeatLink Smart System can be configured for almost any residential or small commercial radiant system."
HeatLink Group Inc. is a leading supplier of PEX-a plumbing, potable water systems, and radiant heating and cooling systems for the residential and commercial building markets across North America. As a fully integrated plumbing and heating manufacturing company, we offer a complete system approach. Our international reputation has been built on more than 25 years of experience, innovation and industry leadership.