IEC Reaches One Million-Hour Safety Milestone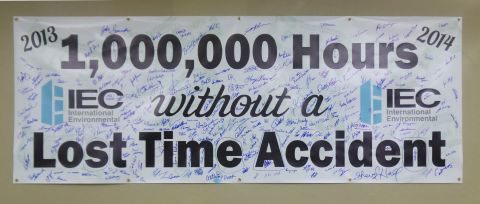 International Environmental Corp. (IEC) announces it has reached a milestone of one million consecutive man-hours of operation without a lost-time injury at its Oklahoma City manufacturing facility.
With no such incidents for nearly two years, the company attributes this achievement to each employee's commitment in identifying potential risk, and subsequently implementing effective measures to mitigate it. 
"At IEC, our safety culture begins with a top-down mentality, along with safety messages that are infused into every aspect of our organization," said Dennis Kloster, president of IEC. "'Safety First' is not just a slogan, but a way of everyday life at IEC, which begins with each employee's first-day safety orientation, and continues to echo throughout every phase of professional development."
According to Kloster, the company's safety policies are further emphasized by a designated in-house safety manager, Stuart Hughes. "Safety Stu," as he is known internally at IEC, manages the company's formal safety program, and ensures involvement in its implementation across all organizational functions.
"Some of the factors we believe attribute to the success of our program include weekly safety topics as taught by line supervisors, safety briefings at monthly company-wide communications meetings and, most of all, the commitment of all our employees to an ongoing 'safety state of mind' in their daily jobs," Hughes explained.
"Our employees realize that IEC values their well-being, and is driven to ensure that everyone makes it home to their families each night," said Hughes. "Reaching this one million man-hours milestone means that our employees are holding themselves and their fellow co-workers accountable for managing risk – at all levels, and at the highest possible standards."
Having reached this safety milestone, IEC has further challenged itself to continuous improvement regarding safety policies and practices, and is currently aiming to achieve additional such milestones in its daily operations.
International Environmental Corp. (IEC), a subsidiary of LSB Industries, Inc., is the leading hydronic fan coil manufacturer in North America. Through continuous improvements and the use of its technical expertise and flexible manufacturing capability, IEC provides the most effective, engineered solutions to indoor air comfort challenges. For additional information, contact IEC via phone at 405-605-5000 or email.
LSB Industries, Inc. (NYSE symbol: LXU) is a manufacturing, marketing and engineering company. LSB's principal business activities consist of the manufacture and sale of commercial and residential climate control products, such as geothermal and water source heat pumps, hydronic fan coils, large custom air handlers and modular geothermal chillers; the manufacture and sale of chemical products for the mining, agricultural and industrial markets; and the provision of specialized engineering services and other activities.