Industry Gathers for PPA Conference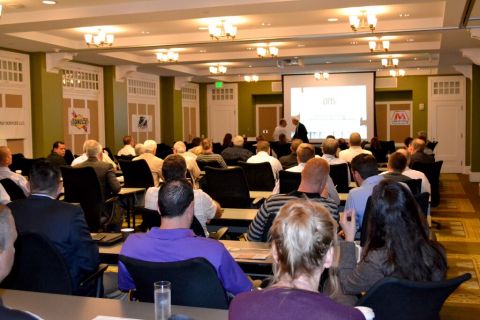 The energy industry recently gathered at the historic Omni Bedford Springs Resort & Spa from September 28-30, 2015 for the Pennsylvania Petroleum Association's Fall Energy Conference and Annual Meeting.
The Conference began with a golf tournament on Monday at the resort's award-winning Old Course, one of our country's first golf courses. Despite rainy weather, golfers enjoyed an afternoon of friendly competition. The following participants received awards: Jeff Plymell (First Place Gross), Shawn Baldensperger (First Place Net), Ted Harris (Second Place Net and Closest to the Pin #2), and John McConville (Closest to the Pin #14). Buckeye Energy Services, LLC sponsored the golf tournament and Angus Energy, Inc., BRT, Inc., Buckeye Energy Services, LLC, CK Business Consultants, Inc., Federated Mutual Insurance Co., and Scully Signal Company contributed prizes.

Later that evening, attendees enjoyed an Industry Reception and a whiskey tasting with Wigle Whiskey. This local, family-owned distillery is named for Phillip Wigle, a pioneer of Pennsylvania distilling who unwittingly helped spark the Whiskey Rebellion of the 1790s.

Tuesday's extensive education program featured industry experts. Ben Brockwell, III, of Oil Price Information Service (OPIS) gave an update on the state of the oil industry. Political Analyst, Dr. G. Terry Madonna, spoke about Pennsylvanians' opinions on government, politics, and energy. Bob Smerbeck, Senior Meteorologist of AccuWeather, provided an overview of the risks and opportunities for the 2015-16 weather energy forecast. There was a luncheon with Philip Rinaldi, Principal Partner and CEO of Philadelphia Energy Solutions, LLC. Patrick Donahue, Regional Risk Manager for Federated Mutual Insurance Co., shared insight about data compromise and cyber liability.

The President's Banquet took place on Tuesday evening and included a keynote from Lieutenant Colonel Todd Beer, retired pilot who flew Air Force Once during 9/11. He recounted stories of his experiences flying in both the Clinton and Bush administrations. PPA also announced that Scott T. Walton will replace John J. Reilly as PPA's next President.

The Conference closed on Wednesday with a Federal and State Issues Panel with Robert S. Bassman Managing Partner of Bassman, Mitchell & Alfano, Chtd., John V. Kulik, PPA Executive Vice President, and Rob Underwood, PMAA President.

PPA would like to thank all who made this year's Energy Conference a huge success, especially the following sponsors: Federated Mutual Insurance Co., Pyramid Petroleum Terminals, Sunoco, Inc., BP Products North America Inc., Buckeye Energy Services, LLC, Marathon Petroleum Company LP, R.J. Reynolds, Valero Marketing and Supply Company, AMERIgreen Energy, Inc., ExxonMobil Fuels Marketing, Duck Island Terminal, Inc., and AJ Silberman and Company.

PPA invites all industry professionals to mark their calendars and join them for the PPA Summer Conference from July 10-12, 2016 in Ocean City, Maryland.