Intellihot Unveils Suite of IoT and Wi-Fi Enabled Products and Services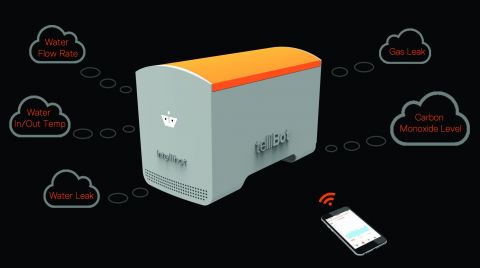 Intellihot Green Technologies, the revolutionary commercial tankless water heating company headquartered in Galesburg, Illinois, today from AHR Expo 2017, announced the expansion of its hot water heater product line and services. The next generation offerings add significant monitoring and analytics capabilities, cost-savings and greater control over operational efficiency for large hotels, sky-rises, stadiums and hospitals.
Intellihot's Gen II product line will be available for purchase on March 1, 2017, and will feature:
Gen II: iQ Series & iSeries - Intellihot's signature iQ Series and iSeries commercial tankless water heaters have been completely revamped and redesigned. All models are are IoT and Wi-Fi enabled, come equipped with an intuitive on-unit touch screen that displays usable operational data and prognostics, and can be managed and monitored remotely with a new state-of-the-art mobile app.
telliBot - The world's first IoT and Wi-Fi-enabled smart condensate neutralizer that is able to convert any water heater or boiler into a smart device, ensuring users never run the risk of acidic corrosion in drains and pipes. telliBot comes with robotic sensors that can remotely monitor water temperatures and warn users if there is any water leakage on the floor. There are also Carbon Monoxide and gas sensors that send alerts of any potential gas or exhaust leaks. Users receive mobile app notifications when water or gas leaks are detected to prevent damage.
telliZero - telliZero is a subscription-based responsive monitoring, maintenance and prognostics service that detects when parts are beginning to wear down and sends replacements ahead of time to ensure zero downtime. telliZero customers are automatically alerted to issues, cost-savings opportunities, maintenance needs and preventative remedies that can be managed onsite.
"Intellihot is fundamentally changing an industry that hasn't been disrupted in ages," said Sri Deivasigamani, CEO of Intellihot. "Our new monitoring and analytics platform allows users to monitor and analyze their hourly, daily and weekly water usage and get performance insights from afar. In addition to reducing environmental impact and space, our Gen II units take away the hassle of upkeep and give users better control over their operational costs."
Intellihot's energy-efficient and space-saving systems conserve space by eliminating the need for redundant heaters and the need for large storage units. The units are only put to use when needed, and ensure continuous, 24/7, uninterrupted on-demand hot water flow. Powering large-scale facilities such as hotels, sports complexes, skyrise residential buildings, hospitals and restaurants, Intellihot's units allow for maximum capacity with masterless cascading that syncs multiple units together without the need for a master controller.
Intellihot's tankless hot water heaters are able to cut down on capital costs by up to 50 percent and operational costs by up to 60 percent. While traditional boilers run 24 hours per day, seven days a week, Intellihot water heaters heat only when needed, thus conserving up to 40 percent more energy. Intellihot's suite of commercial water heaters not only save clients' space, energy and money, they reduce carbon footprint by lowering greenhouse emissions by 37 percent.
The Generation II suite of hot water heaters will be available for purchase on April 1, 2017. All commercial tankless water heaters come with a 10-year non-prorated heat exchanger warranty. To learn more about Intellihot Green Technologies, visit intellihot.com.