Introducing Bosch's New Reciprocating Saw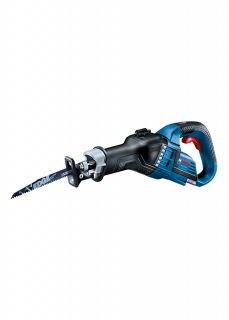 Corded-like power in a tool that's well balanced and easy to use
The Bosch Multi-Grip GSA18V-125 18V EC Brushless 1-1/4" Stroke Multi-Grip Reciprocating Saw combines an advanced handle design for greater comfort with a powerful 18-volt Bosch EC brushless motor and orbital/non-orbital action to deliver superior cutting performance. It's a reciprocating saw that provides next-generation corded-like power and optimized user comfort to reduce fatigue in rough cutting and demolition work in pipe, metal or hardwood.
The Bosch Multi-Grip Reciprocating Saw delivers 0-2,500 strokes per minute with a 1-1/4" stroke length. The versatile soft-grip handle and easy toolless blade change system highlight enhanced comfort and ease of use. The tool features an advanced ergonomic design for easy maneuverability and a maximum-speed dial for enhanced speed control.
The saw's multi-grip handle allows it to be held comfortably in a wide variety of positions, such as overhead, close the ground or sideways. With great balance and weight of only 7.7 lbs. (tool alone), the Bosch Multi-Grip Reciprocating Saw offers greater utility so users can comfortably saw in awkward positions for longer periods of time.
The Bosch GSA18V-125 Multi-Grip Reciprocating Saw is the first cordless reciprocating saw to feature three orbital settings (0-1-2), which allows users to select the aggressiveness of the stroke that's best suited to the cutting task at hand. It delivers a long and labor-saving 1-1/4" stroke that allows more material to be removed. Handy variable speed controls include a dial to set the desired maximum speed and an accelerator trigger for adjusting the operating speed, such as when starting a cut.
"Professional reciprocating saw users are always on the lookout for more power and faster results. The Bosch Multi-Grip Reciprocating Saw delivers that and much more in a versatile, comfortable package," said Jim Stevens, product manager, Robert Bosch Tool Corporation. "The three orbital-action settings allow optimization of the saw's stroke to ensure maximum cutting power and speed whether the job is demolition cutting of wood or precision cutting of a metal pipe."
The reciprocating saw includes a powerful Bosch EC Brushless motor that delivers more power, better efficiency and improved runtime over previous-generation 18-volt motors. Integrated counterbalance technology limits vibration for better handling, helping users comfortably cut through dense materials with ease.
The Bosch Multi-Grip Reciprocating Saw features a toolless blade-change system with a robust lever that allows for easier blade removal and installation, even with gloves on. The saw's adjustable footplate enables control of the cutting depth and use of a wide array of the blade's teeth for more efficient operation. A handy hanging hook keeps the tool within reach at all times. In addition, the reciprocating saw includes a bright double-LED light for greater visibility from either side of the blade in dark or tight work areas.
The Bosch GSA18V-125 Multi-Grip Reciprocating Saw includes Bosch-exclusive Electronic Cell Protection (ECP) that protects the battery against overload, overheating and deep discharge for longer life. Likewise, Bosch Electronic Motor Protection (EMP) protects the motor against overload with integrated temperature management.
To learn more about the Bosch GSA18V-125 18V EC Brushless 1-1/4"-Stroke Reciprocating Saw or to find a local dealer, visit www.boschtools.com or call 877-BOSCH-99. Check out www.bethepro.com for additional tips and videos.