Isolator® Select™ – Ideal for Geothermal Applications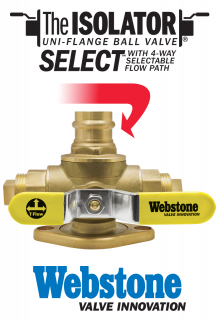 Now available – Webstone's latest Uni-Flange product, the Isolator® Select™ features a versatile selectable flow path for directing fluid between the 4 ports as required for the specific application. Its generously sized 1" NPT side ports make it well-suited for filling, purging air, or sampling geo-thermal ground loops, and make it easy to add a pressure gauge to the system at the pump. The main valve provides a method for isolating the loop from the rest of the system, simplifying the task of maintenance. The product provides a 1" Press connection, (2) plugged 1" FIP connections, and detachable rotating flange. Compatible with popular press tools and GUARANTEED FOR LIFE.
Learn more at http://www.webstonevalves.com/IsolatorSelect.
Founded in 1954, Webstone is recognized as an industry leader for innovative design of residential and commercial valves used in plumbing, hydronic, radiant, solar and geothermal applications. These designs focus on time and space saving concepts that simplify future maintenance and upkeep of all piping systems. Some of Webstone's trademarked and patented items include; Hydro-Core™, The Isolator®, Isolator EXP™, Pro-Connect™, and Pro-Pal® step saving valves.