LG Introduces Inverter Heat Pump Chiller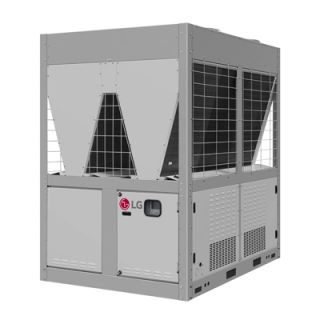 LG Air Conditioning Technologies USA has introduced a new LG Inverter Scroll Heat Pump Chiller (ISHPC), leading the market forward by providing new levels of high performance and increased efficiency in the heat pump air-cooled chiller category.
By marrying key design attributes of variable refrigerant flow (VRF) technology with chilled water production, LG is raising the standard for air-cooled chillers with a robust set of high performance features – reflected in its cooling capacity and low ambient heating ranges – providing building engineers with a flexible, cost-effective and properly-sized solution for air-source heat pump heating and cooling.
Available in modules ranging from 17.5 to 60 tons, the LG ISHPC performs at 100 percent of its rated cooling capacity up to 110°F, with cooling operation of up to 125°F, as well as at 100 percent of its rated heating capacity down to 32°F, and at 80 percent of its rated capacity at 17°F while providing 120°F hot water. The new LG chiller performance is certified per AHRI Standard 550/590 and sound levels per AHRI Standard 370, demonstrating class leadership for Integrated Part-Load Value (IPLV), sound level and low ambient heating performance.
The LG ISHPC delivers powerful low ambient heating performance without sacrificing efficiency, or quieter operation. In tandem with the market's growing trend towards electrification, the high heating low ambient performance (to -22°F) of the new LG ISHPC is a viable engineering solution that meets hot water heating needs and supports a carbon reducing strategy.
With an independent modular system design that reduces the size of each independent refrigerant circuit, the LG ISHPC is internally redundant, reducing the impact of compressor downtime. Compared to traditional staged systems, the LG ISHPC matches the required capacity as the load changes, while optimizing electrical consumption, thanks to the system's variable speed design.
Utilizing inverter technology for more precise and efficient response to load demands for performance in both comfort and process cooling applications, the ISHPC touts operation in low ambient cooling applications (down to 5°F) without the need for additional system configurations. Featuring a modular design, the internal controls of the new ISHPC allow up to five frames to be piped together and controlled as one. Multiple systems can be managed through building automation systems, providing an almost unlimited range of configuration options to meet unique project needs.
"The introduction of the LG inverter heat pump chiller marks a new chapter of innovation in the heat pump air-cooled chiller segment," said Steve Scarbrough, senior vice president, Air Conditioning Technologies, LG Electronics USA. "Engineered with innovation, performance, efficiency and flexibility at the center, this new chiller will widen the application of the product and grow market share for the segment, especially as the emphasis on electrification gains momentum."
The LG Inverter Scroll Heat Pump Chiller will be on display at the 2022 AHR Expo. Please visit the LG Electronics USA booth (#N7906) for more information on the complete portfolio of LG's robust lineup of heating and cooling solutions and controls, as well as at lghvac.com.