LOCHINVAR® NAMES DECEMBER VIP CONTRACTOR PROGRAM WINNERS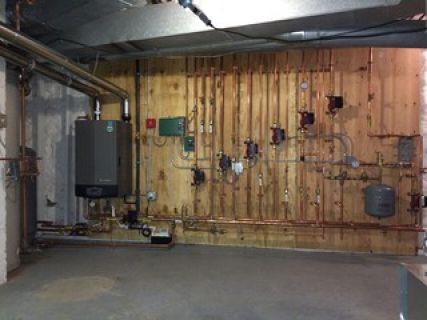 Winners of VIP Installation Showcase and VIP Drawing Selected; Contractors Receive Spots on All-Expenses-Paid Nashville Experience Trip
Lochinvar has released the third round of winners in its VIP Contractor Program for the 2014-2015 heating season. Mack Shwert of CCL Mechanical in Marlborough, Massachusetts was named the December winner of the VIP Installation Showcase, and Adam LaFleche of Sheren Plumbing & Heating, Inc. in Traverse City, Michigan was selected in the third monthly VIP drawing. Both winning contractors will take part in Lochinvar's Nashville Experience trip this June, which includes an all-expenses-paid trip for two and tickets to the world's largest country music festival.
An Impressive Installation
Shwert's entry in the VIP Installation Showcase, which is housed on Lochinvar's Facebook page as well as on www.knightheatingboiler.com, highlighted a 285,000 Btu/Hr. KNIGHT®Wall-Mount Heating Boiler serving a complex multi-zone system. The boiler served an 80 gallon indirect water heater, multiple "hydro air" air handlers, one baseboard, one cast-iron radiator and a flat-plate heat exchanger. The KNIGHT boiler was installed in a direct-vent configuration using Stainless Z vent for air intake and exhaust. Shwert's entry received numerous votes and was selected by a panel of Lochinvar judges as the December winner. 
"We chose the KNIGHT boiler to offer our customers long-lasting, energy-efficient results they can rely on," said Shwert. "It's an honor to have our installation recognized by Lochinvar in the VIP Contractor Program, and we're looking forward to visiting them in Nashville in June."
Through April 2015, approved contractors can upload a photo and brief description of any eligible boiler installation to the contest interface. Qualified products include the high-efficiency KNIGHT® (55,000 – 399,000 Btu/hr models), Solution™ and Cadet® Boilers, as well as the Squire® Indirect Water Heater.
Once an entry has been submitted, it is featured in a gallery where Facebook users can vote for their favorite installations. Each month of the Showcase, the top three entries with the most votes are selected as finalists, and a panel of Lochinvar judges chooses the winner.
If an Installation Showcase entry is not named a winner in the month it was registered, there's still a chance it may win in a later month. While VIP Contractors can only win the Nashville Experience once per year, submissions continue to be eligible to win even after the first month they are entered.
Rewards for Registrations
In addition to Shwert, LaFleche was also named a winner in the VIP Contractor Program for December. LaFleche was randomly selected in the monthly drawing for approved VIP Contractors. Every approved VIP Contractor is entered into a monthly drawing to win the Nashville Experience. For every qualified boiler registration, VIPs receive a Visa® Reward Card pre-loaded with $25 value. Each registration of the Squire Indirect Water Heater earns a card pre-loaded with $10 value.
"I'm really looking forward to visiting Lochinvar's world headquarters and being part of the Nashville Experience with the other VIP Contractors this summer," said LaFleche.
During the all-expenses-paid trip for two, winners and their guests will stay at Nashville's Omni Hotel, a short walk from the ultimate experience for any country music fan. As part of the Nashville Experience, the winning VIP Contractors will also tour Lochinvar's world headquarters and take part in a round-table discussion where they can share insights and information with Lochinvar executives.
For more information about the VIP Contractor Program, visit knightheatingboiler.com.
Lochinvar, LLC is a leading manufacturer of high-efficiency water heaters, boilers, pool heaters and storage tanks. Based in Lebanon, TN, with facilities in Chicago, Detroit, Orlando, Phoenix, Pompano Beach and Dallas, Lochinvar stocks all products in all locations. Lochinvar, LLC is a wholly owned subsidiary of A. O. Smith Corporation. For more information about Lochinvar, contact: Lochinvar, LLC, 300 Maddox Simpson Parkway, Lebanon, TN 37090; Phone: (615) 889-8900; Fax: (615) 547-1000; www.Lochinvar.com.