LOCHINVAR® NAMES FIRST FOUR VIP CONTRACTOR PROGRAM WINNERS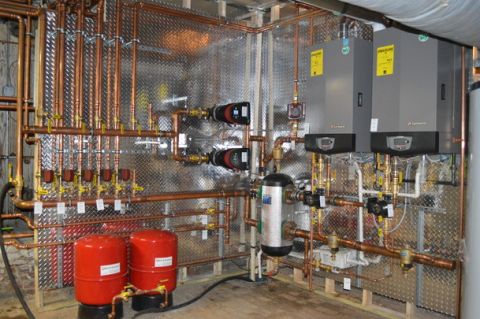 October Winners of VIP Installation Showcase and VIP Drawing Announced
Lochinvar has announced the first winners in its 2015-2016 VIP Contractor Program, which offers more prizes than ever before. From October through April, a total of four VIP Contractors are rewarded each month for their installations of Lochinvar's residential boilers. Three of the monthly winners are selected among participants in the VIP Installation Showcase, an online contest that highlights VIPs' impressive installations, and an additional winner is randomly selected in a monthly drawing.
VIP Installation Showcase Winners
After reviewing the 10 entries received in October's VIP Installation Showcase, which is housed on Lochinvar's Facebook page as well as at www.knightheatingboiler.com, an expert panel of judges selected the top three submissions based on the complexity of the job, accuracy of the approach, equipment installed and general appearance as well as challenges and results shared in the project description.
The first place winner in the first month of the VIP Installation Showcase was Keyes North Atlantic in Newton, Mass. Bryan Marino of Keyes North Atlantic submitted an entry highlighting a residential project that included two 285,000 Btu/hr KNIGHT® Wall Mount Boilers with CON·X·US® Remote Connectivity, two 119-gallon Squire Indirect Water Heaters, local and remote manifold piping and Grundfos variable-speed pumping with a diamond plate mounting system. This state-of-the-art system, which replaced an old and inefficient atmospheric boiler, provided a perfect match to the existing hydronic and air systems while also solving several uneven temperature swings in the home's bedrooms.
In the entry, Marino noted that, "This client was not only psyched to save money with the new system, but also from the beauty of this mechanical room!" The first place prize earns
a spot on the Nashville Experience, an all-expenses-paid trip for two includes tickets to the world's largest country music festival in June 2016.
The second place prize, a $250 Visa® Reward Card [1], went to Matt Derrien of Cooper Plumbing & Heating in Calgary, Alta. Third place was awarded to another VIP Contractor from Calgary: Shane Fink of Triple H Hydronics, who receives a $100 Visa Reward Card. The nine entries that were not awarded the first place prize in the October VIP Installation Showcase can all be resubmitted for another chance to win the Nashville Experience.
VIP Drawing Winner
Throughout the year, approved VIP Contractors receive a Visa Reward Card for every eligible Lochinvar product they register. In addition to receiving gift card rewards, VIP Contractors are entered into a monthly drawing for the Nashville Experience.
The contractor selected in the October drawing was Dave Gieck of Wyoming Mechanical in Jackson, Wyo. Gieck and his guest will join Marino and the VIP Contractors selected throughout the remainder of the program for the festivities in Nashville this June.
The seven monthly VIP Installation Showcase winners, along with the seven contractors randomly selected in the monthly drawings, will be joined on the Nashville Experience by two overall top-performing VIPs for a total of 16 winners of the grand prize package.
Lochinvar, LLC is a leading manufacturer of high-efficiency water heaters, boilers, pool heaters and storage tanks.  Based in Lebanon, Tenn., with facilities in Chicago, Detroit, Orlando, Phoenix, Pompano Beach and Dallas, Lochinvar stocks all products in all locations. For more information about Lochinvar, contact: Lochinvar, LLC, 300 Maddox Simpson Parkway, Lebanon, Tenn 37090; Phone: (615) 889-8900; Fax: (615) 547-1000; www.Lochinvar.com
[1] Card is issued by The Bancorp Bank, Member FDIC, pursuant to a license from Visa U.S.A. Inc.