MagnaClean® Professional2XP™ Fits 1¼" NPT Iron Pipework to Combat Iron Oxide, Restore Hydronic System Efficiency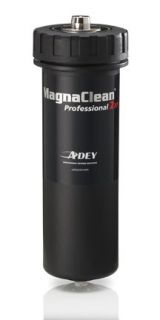 Iron oxide represents a serious problem for hydronic heating systems. Buildup of this damaging sludge can reduce heat transfer to the home by as much as 15 percent, and reduce boiler efficiency by up to 6 percent in only three weeks.*
This month, ADEY® introduces the MagnaClean® Professional2XP™, which virtually eliminates the problem.
"We expect this may well become our most popular filter yet," says Director of U.S. Business Development, Tom Tonkins. "It's designed to fit the most commonly used 1¼" NPT pipe size, and it can handle both large residential and light commercial applications."
Vital to system maintenance, the MagnaClean Professional2XP is part of a five-step Best Practice™ process pioneered by ADEY. Each step in the system combats water quality issues to maintain total hydronic heating system health, optimizing system performance and efficiency.