Mechanical Room Showcase Shines in Caleffi Excellence Contest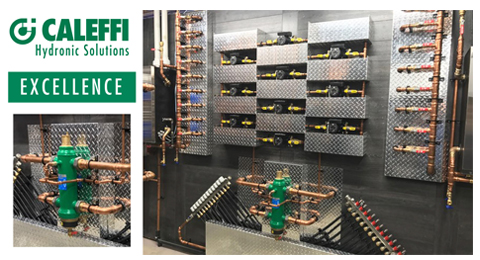 The 2017 grand prize winner of the Caleffi Excellence contest was determined by popular vote and announced during a recent Coffee with Caleffi™ webinar. The contest is a platform by which designers, contractors and engineers can showcase their work that feature our products in order to win a trip to Italy for two to visit our world headquarters and receive a personalized tour of our factories and design facilities.
Selected from a collection of monthly finalists, Patrick Driscoll, CEO of Ironclad Mechanical Plumbing and Heating Inc. (Edmonton, Alb.), was declared the grand prize winner. His residential client wanted a showpiece heating system; Driscoll and his team did their best to provide that in an impressive Mechanical Room Showcase. Extensive in-house design work was accomplished during the planning stage to create a mechanical room that was comfortable walking into. They utilized fabrication services to create custom diamond plate boxes to showcase the Caleffi SEP4™ and other components of the system.
"We are beyond thrilled and humbled to have won the grand prize. This is extremely exciting. A huge thank you to everyone who voted for us," exclaimed Driscoll. There is more to come! Stay tuned for upcoming 2018 contest details.