NAVIEN is Named APR's INNOVATION PARTNER OF THE YEAR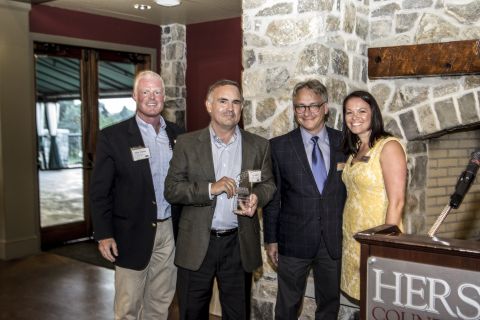 At their annual awards dinner in Hershey, PA, APR Supply Co. named Navien their INNOVATION PARTNER OF THE YEAR. Jeff MacDowell, VP of Marketing and Emerging Markets presented the award to Gary Eklof, president of Harry Eklof & Associates, Navien's area representative.
In his presentation, MacDowell noted that "Navien distinguished themselves with their outstanding products and support while simultaneously meeting the needs of APR, the contractor and the consumer". He went on to list the following factors that led APR Supply to their decision: "This year Navien has been
Always striving to improve on products to take them from good to great
Creating niche products for new and existing market segments
Making their products smart
Focusing on ultra -condensing efficiencies
They have great rep support
Consumer friendly website
Providing multiple market segments of water heating and space heating
The products that made us give the awards were:

NPE Series condensing tankless water heaters with energy factors up to 0.99EF and cascading capabilities for both residential and commercial applications
NHB boilers with up to a 15:1 turn down ratio and NCB combi units with heating capacity up to 120k BTU/H and DHW of 199k BTU/H."
MacDowell concluded by saying that, "Navien offers the support and innovation" that APR Supply Co. needs to be successful.
About APR Supply
Founded in 1922, APR Supply Co is a family-owned wholesale distributor of Plumbing, Heating and Air Conditioning supplies.  The company's mission is to create enthusiastic customers, and currently has 34 locations and 8 kitchen and bath showrooms across Pennsylvania, New Jersey, and New York.  APR Supply employs over 280 people, has won numerous awards, and is currently nominated as one of the top 50 fastest growing companies in Pennsylvania. www.aprsupply.com
About Navien
An official ENERGY STAR® partner of the Residential Water Heater Program, Navien is the recognized leader in condensing technology. The company name is derived from three words: Navigator / Energy / Environment, with a mission to provide customers with the ultimate comfortable living environment through energy efficient products by using innovative technology to create a healthier environment for our future generations. Navien products are available in the United States and Canada through a selected network of wholesale distributors.
For more information, visit www.navien.com