NEW - Add-A-Gauge Tools from Webstone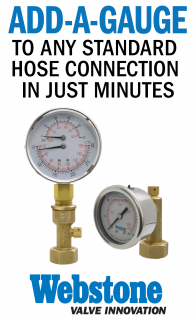 The new Webstone Add-A-Gauge tool allows installers to utilize an existing hose connection to add a gauge port to any system in just minutes.  
Models accommodate bottom or center-back mounted temperature and/or pressure gauges (sold separately), feature a 1/8" capped bleeder, are constructed from Lead-Free CleanBrass and guaranteed for life.  Founded in 1954, Webstone is recognized as an industry leader for innovative design of residential and commercial valves used in plumbing, hydronic, radiant, solar and geothermal applications. These designs focus on time and space saving concepts that simplify future maintenance and upkeep of all piping systems. Some of Webstone's trademarked and patented items include; Hydro-Core™, The Isolator®, Isolator EXP™, Pro-Connect™, and Pro-Pal® step saving valves.  
Visit Webstone for more great news!