NEW PEX Products from Webstone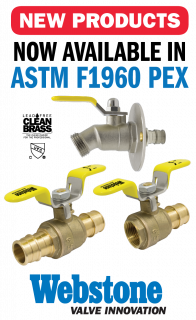 Webstone is pleased to announce the latest enhancement to our PEX valve lineup to include cold-expansion ASTM F1960 PEX Sillcocks and ball valves. 
These items offer durable stainless steel handles, are lead free compliant (certified to NSF/ANSI-14, IAPMO/ANSI Z1157, NSF/ANSI-61, & NSF/ANSI-372) and guaranteed for life.  Founded in 1954, Webstone is recognized as an industry leader for innovative design of residential and commercial valves used in plumbing, hydronic, radiant, solar and geothermal applications. These designs focus on time and space saving concepts that simplify future maintenance and upkeep of all piping systems. Some of Webstone's trademarked and patented items include; Hydro-Core™, The Isolator®, Isolator EXP™, Pro-Connect™, and Pro-Pal® step saving valves.  
For more information, visit Webstone.