New Pro-Pal® Dielectric Water Heater Supply Valves™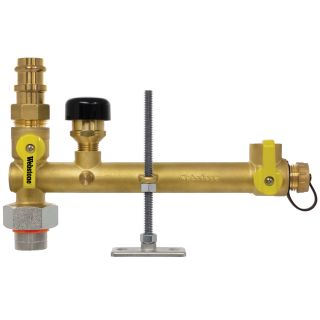 Webstone®, a brand of NIBCO, announces new patent-pending Dielectric Water Heater Supply Valves™ (DWHSV). These Pro-Pal® step-saving valves simplify the installation and service of any water heater, combining a dielectric union, a ball valve, and a ½" FIP vacuum relief valve port into a single forged dezincification resistant brass body. For areas where an expansion tank is also required, the Dielectric Water Heater Supply Valve with Expansion Tank Service (DWHSV-X) is a fully integrated solution. It features an extended arm with a ¾" FIP port and ¾" capped hose drain. Both models are available with or without the vacuum relief valve and your choice of FIP, MIP, sweat, press, or push ends to connect to system piping.
Learn more at www.webstonevalves.com/pro-pal
Founded in 1954, Webstone now operates as a brand of NIBCO and is recognized as an industry leader for innovative design of residential and commercial valves used in plumbing, hydronic, radiant, solar and geothermal applications. These designs focus on time and space-saving concepts that simplify future maintenance and upkeep of all piping systems. Some of the Webstone trademarked and patented items include: Hydro-Core®, The Isolator®, E-X-P®, Pro-Connect™, and Pro-Pal® step-saving valves.