New REHAU RAUPEX® SPEED System Makes Radiant Overpour Installations Faster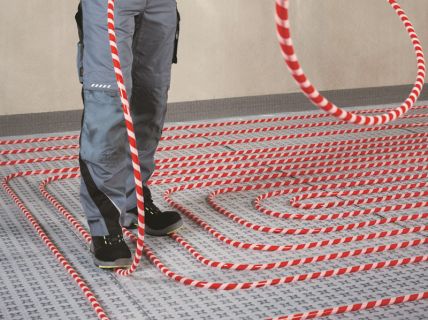 REHAU announces the availability of the RAUPEX® SPEED radiant overpour fastening system that allows contractors to install heating pipe in overpour and concrete installations up to 30% faster.
The RAUPEX SPEED O2 barrier pipe, with hook-and-loop wrap, is walked on to the RAUPEX SPEED mat without the use of specialized tools, not only saving time but also providing ergonomic advantages. 
The mat features an adhesive backer that attaches to a range of different thermal insulation, concrete and plywood materials without penetrating the surface, thus protecting thermal, vapor and sound insulation properties. Pipe can be easily detached and repositioned, saving time and reducing waste. The system can be installed in concrete slabs, suspended slab or thin slab overpour projects.
The 1/2 in. pipe is offered in 300 and 1,000 ft (91.4 and 304.8 m) coils and 3 mm thick RAUPEX SPEED mat is offered in 3.1 by 52.9 ft (0.93 by 16.13 m) rolls. A pipe uncoiler and optional door spreader assist with guiding the pipe. Videos and technical information are available at na.rehau.com/speed.
For additional information, contact: REHAU, 1501 Edwards Ferry Rd., N.E., Leesburg, Va., 20176. E-mail: . Web site: http:// na.rehau.com/speed.
REHAU delivers "Unlimited Polymer Solutions," and is the premium worldwide brand for polymer-based innovations and systems in construction, automotive and industry. The company generates continuous growth through its expertise and innovative capabilities in materials development, systems design and surface technology. Approximately 20,000 employees at more than 170 locations around the world ensure success of the independent, privately held company.