Webstone Pro-Pal® Expansion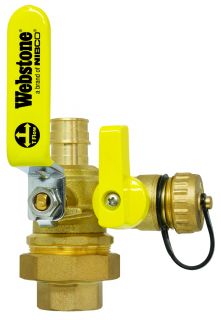 Webstone®, a brand of NIBCO, announces further labor-saving products for use in PEX systems. The popular Pro-Pal® Ball Drain™ is now available with F1960 and F1807 end connections, allowing users to isolate and drain any portion of a PEX system more easily than ever before. The full Ball Drain™ lineup also features FIP, SWT, Press, Press x Pex, PP-R, PP-RCT, and union connections, in sizes ½-2". Lead-free dezincification-resistant brass construction certified to all appropriate codes and standards. Save up to 45 minutes and 5 leak-paths off your next installation.
Learn more: www.webstonevalves.com/pro-pal
Founded in 1954, Webstone now operates as a brand of NIBCO and is recognized as an industry leader for innovative design of residential and commercial valves used in plumbing, hydronic, radiant, solar and geothermal applications. These designs focus on time and space-saving concepts that simplify future maintenance and upkeep of all piping systems. Some of the Webstone trademarked and patented items include: Hydro-Core™, The Isolator®, E-X-P™, Pro-Connect™, and Pro-Pal® step-saving valves.