NIBCO ® PressG™: A Game Changer for Gas and Compressed Air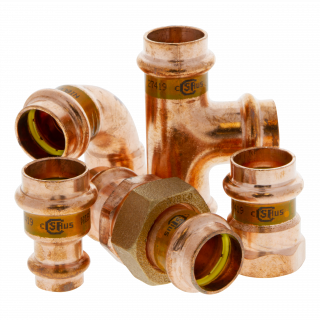 NIBCO INC. launches PressG™ fittings, a new line of joining solutions designed and engineered for use in copper tube systems primarily for gas and compressed air applications. PressG, saves time and money for professional contractors.
The full line of PressG fittings meet stringent certification and compliance standards including: ANSI LC4/CSA 6.32, ICC-ES PMG 1502, and IAPMO/UPC LC-4.
Made in Stuarts Draft, Va., with the highest quality of globally sourced pure copper, PressG fittings feature a patented (yellow) HNBR O-ring providing leak detection capability to identify any uncrimped connections. Third-party certified by CSA for use in gas applications, each fitting displays a visible yellow marking with this designation. All fittings are backed by a 25-year written warranty.
NIBCO PressG fittings are available in ½" through 2" including male and female threaded adapters, caps, couplings, reducing couplings, elbows, tees, and unions. PressG can be installed in less time than traditional solder, threaded, brazed, or grooved copper fittings. PressG is an easy, fast mechanical joining system that doesn't require any open flame making installs safe in occupied spaces – saving time and money. PressG can also be dry-fit for pre-fabrication.
To learn more about the new PressG fittings, visit nibco.com/pressg.