Nortek Air Solutions' Partnership with Charity Grows into HVAC Assembly Jobs Program for Disabled Adults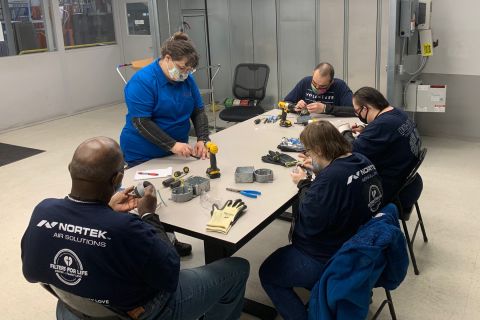 Nortek Air Solutions (NAS) recently took its partnership with Center of Family Love (CFL) a step further and began hiring the charity's intellectually and physically disabled adults to work at its Okarche, Okla., commercial HVAC air handler manufacturing plant.
The initial group of four CFL residents was trained onsite at NAS for one month last April to learn light fixture and wiring installation for 4 x 4-inch-square electrical boxes. The assemblies are eventually incorporated into the Temtrol® branded air handlers the facility manufacturers. The group arrives at NAS accompanied by a CFL job coach for two 8-hour shifts weekly. They're already completing an impressive 150 light fixture/box assemblies per week. The work has been invaluable for enabling NAS electricians to concentrate on other air handler tasks. "This program has far exceeded our expectations," said Paul Bohnenkamp, NAS' manufacturing/operations director, who is already planning other assembly work for the group to tackle.
"These are meaningful tasks resulting in an end product that is not only useful for the employer, but also something the resident is proud to show," said Marsha Smith, vice president–programs, CFL, who matched the residents' skills to the NAS' job description. "Meaningful work is therapeutic development that improves motor function, cognitive functions and social skills."
The CFL workers, who range in age from 38 to 51-years-old, were chosen for their exemplary work records at Filters for Life (FFL), Kingfisher, Okla., which is a job opportunity the 40-year-old CFL owns and manages for its 55-participant Vocational Program. The 20,000-square-foot FFL facility employs 35 CFL residents that manufacture more than 150,000 HVAC filters annually for Oklahoma state building air handlers and is funded partially by donor partners such as NAS.
Bohnenkamp conceived of the recent employment opportunity during one of NAS' periodic CFL community service days created under its "Nortek Gives" program where employees dedicate assistance ranging from fellowship to technical and maintenance assistance at a CFL facility. The CFL Vocational Program, which places qualified residents in local employment positions, quickly accepted Bohnenkamp's invitation.
NAS provides a paycheck to CFL's residents, which gives them opportunities for financial independence. Statistics show that despite their willingness and ability to be a part of the nation's workforce, people with intellectual or physical disabilities are either under employed or unemployed, according to Smith.
"I'm so proud of our NAS Okarche Team and the CFL; our partnership has created bonds that will not be broken," said Buddy Doll, president, NAS. "As manufacturers in Okarche, we must give back to the communities where we live and work. This is a beautiful relationship."