Oatey Co. Advances Position in Digital Space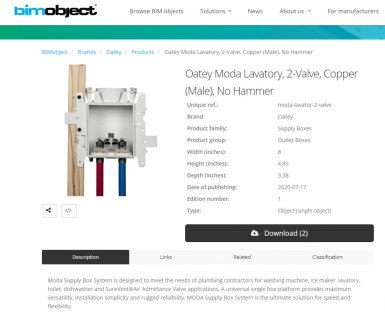 Oatey Co., a leading manufacturer in the plumbing industry since 1916, is continuing to advance its position in the digital space, partnering with industry leader BIMobject to make its commercial product BIM (Building Information Modeling) content available to industry professionals worldwide. BIMobject, a leading global IT company at the forefront of digitalization in the construction industry, connects its 2 million users with the digital product information needed for the designs and buildings they create.
Oatey's BIM content to support Revit projects is available now, supported by BIMobject, both at Oatey.com and BIMobject.com. Each BIM file set comes complete with fully parametric controls, MEP connectors and all other essential information that engineers, architects and building professionals will need to design with Oatey products.
"We understand the importance of providing industry professionals with the insights and tools they need to more efficiently plan, design, construct and manage their projects," said Brian DiVincenzo, President, Wholesale and Commercial Sales, at Oatey. "That's why we are pleased to partner with industry leader BIMobject to provide convenient access to Oatey's complete BIM content."