Prevent Galvanic Corrosion with Quick-Connecting Press Dielectric Unions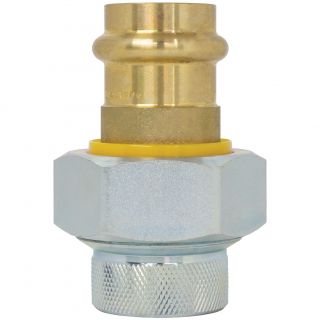 Webstone®, a brand of NIBCO, announces new FIP x press dielectric union. It features a nylon insulator ring that interrupts the electric current caused by joining two pipes of dissimilar metals, helping to prevent galvanic corrosion. Installation is quick and clean with threaded galvanized steel by dezincification resistant brass press ends. This product is certified lead-free, available in sizes ½" – 1", and is compatible with popular press tools.
Learn more: www.webstonevalves.com/press
Founded in 1954, Webstone now operates as a brand of NIBCO and is recognized as an industry leader for innovative design of residential and commercial valves used in plumbing, hydronic, radiant, solar and geothermal applications. These designs focus on time and space-saving concepts that simplify future maintenance and upkeep of all piping systems. Some of the Webstone trademarked and patented items include: Hydro-Core®, The Isolator®, E-X-P®, Pro-Connect™, and Pro-Pal® step-saving valves.