R.W. Beckett Corp. Introduces New Residential Oil Heat Engineering Lab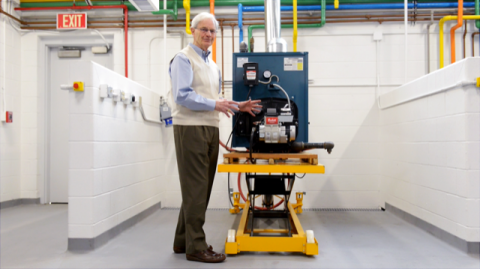 On March 19, R.W. Beckett Corp. officially launched its newly rebuilt, state-of-the-art residential oil heat engineering lab and interactive customer experience room. The newest of Beckett's three labs inside its Northeast Ohio headquarters will serve as a facility for testing the application of Beckett products to OEM customers' products as well as welcoming dealer groups and industry service personnel for hands-on training and demonstrations in a real-life environment where Beckett products provide tactile and visual feedback.
After a fire devastated the old lab facility in 2018, Chairman of the Beckett Companies John Beckett said, "We hadn't planned on this, but it gave us an opportunity to take a fresh look at how we would reconfigure our lab. We thought, how would we build a first-class, modern laboratory that put its best foot forward from an engineering standpoint? We feel that we have to be a strong engineering company if we're going to service our customers, and we serve the marketplace best by offering well-designed, well-engineered, and well-tested products. Our lab is a great leap forward in this pursuit."
For Beckett, the residential lab symbolizes the organization's strong tradition and values as well as its devotion to the residential segment while the company explores new territories. The lab represents Beckett's core business and ability to provide a product that adapts well to customer products while providing a foundation for tomorrow's well-engineered products.
About R.W. Beckett: With over 80 years of experience in the industry, family-owned R.W. Beckett has built a lasting legacy as the North American market leader in combustion products used in heating, cleaning equipment, and for custom applications. Developers of electronic safety controls and sellers of HVAC related products, the Beckett Family of Companies has a presence in more than 50 million US homes. You can learn more at https://www.beckettcorp.com/.