R.W. Beckett Launches the BeckettLink® Connected Tank Gauge System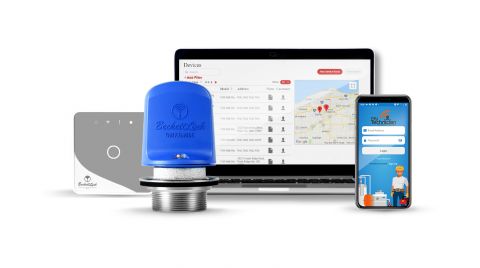 RW Beckett Corp is proud to introduce the BeckettLink® Connected Tank Gauge. This is an exciting solution for dealers and users to continuously monitor fuel tank levels from a smart phone, tablet, or other connected device. Dealers will now be able to monitor their customers usage and schedule deliveries based on actual consumption rather than traditional systems which relied on weather data or route planning formulas. The available Beckett 'Dealer Dashboard' allows dealers to track all customers with this gauge installed and provide them with peace of mind that there will always be fuel in the tank, while maximizing delivery efficiency. The BeckettLink® myTechnician™ app makes installation of the system a breeze and allows end users to monitor and maintain each individual system. Running out of fuel and wasted trips can become a thing of the past!
The system consists of a tank gauge that uses ultrasonic measuring of the fuel level, and a wi-fi enabled 'hub' connected to secure and transmit to the connected device and dealer dashboard (if used) assigned to that gauge. Alerts for low tank level, battery life, and even low indoor temperature can be programmed to send messages if an issue needs attention.
Accurate, timely information is becoming critical to operating an efficient and modern fuel delivery company. Connected products will help these companies to excel at giving their customers improved customer service while streamlining delivery operations. Look to Beckett to be the leader in liquid fuel combustion system operations and monitoring. For more information on the Connected Tank Gauge System, visit https://www.beckettcorp.com/beckettlink-connected-tank-gauge-system/.