REHAU Exhibits High-Performance Building Solutions at Construct Canada 2014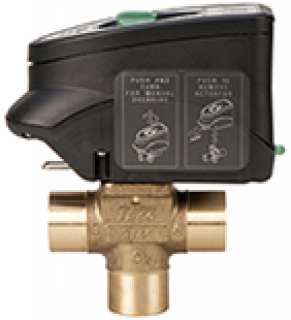 Company to Showcase High-Performance Radiant and Renewable Energy Technologies and Commercial uPVC Window and Door Designs
REHAU announces its exhibition at Construct Canada, December 3-5 in Toronto, booth No. 1132. The company's complete range of high-performance building solutions will be on display, including commercial uPVC window and door designs, radiant heating and cooling, geothermal ground loop heat exchange and pre-insulated piping systems. In addition, the company will highlight recent innovations in its System 1400 casement window design as well as its hydronic snow and ice melting system paired with web-enabled, weather-sensing controls.
"Construct Canada is the perfect forum for REHAU to introduce some exciting new developments in our high-performance building solutions," said James Clavel, REHAU sales director for Ontario. "We will debut a new, flat-faced casement window design now available in our System 1400 lineup. This profile offers an updated, contemporary commercial look, outstanding performance ratings and many design options," he said.
Also featured in booth No. 1132 will be REHAU hydronic snow and ice melting systems with a new weather-sensing REHAU Smart Controls SIM module. The system offers an automated, cost-effective solution to the complicated and expensive task of snow and ice removal, with the added benefit of lessened environmental impact.
"In addition to the costs involved in clearing vehicle and pedestrian pathways, plows and chemical deicers often damage surfaces while producing carbon emissions and contaminated runoff," Clavel said. "In comparison, the costs to operate our hydronic snow and ice melting system for a typical season are usually much lower, even with advanced control features that can anticipate a coming storm and prompt melting before there's any accumulation," he said. "Our system is clean, efficient and puts the owner squarely in control of their time and budget – that's welcome news."
Joining Clavel in booth No. 1132 will be product specialists and engineers prepared to engage in educational discussions on the following high-performance building and renewable energy technologies:
REHAU Commercial uPVC Window and Door Designs
REHAU's comprehensive line of commercial uPVC window and door designs includes solutions to address the tight building envelope goals of today's sustainable construction projects. With heavy commercial ratings, energy efficiency that surpasses aluminum by 30 percent and sound transmission class (STC) ratings up to the mid 40s, REHAU designs call into question many misconceptions about vinyl. In addition to the proprietary material's superior thermal properties, a main contributor to REHAU's high-performance designs is the uniquely engineered compression-seal technology. These attributes result in long-term durability and the potential for achieving higher performance ratings from organizations such as AAMA and CSA. REHAU high-performance windows and doors featuring compression-seal technology are available in several configurations, including tilt-turn, tilt-slide, lift-slide, bi-fold and casement designs.
On display will be the new System 1400 flat-faced casement design with multiple locking points and three continuous seals surrounding the sash, which create a superior air and water barrier, providing extra security and comfort from air infiltration. The design is capable of achieving a high-performance CW-PG 60 rating and offers a glazing channel up to 1 3/8 in (35 mm) for outstanding thermal and acoustical properties (STC 40).
REHAU will also exhibit its GENEO® window and door system composed of an advanced, proprietary fiber-composite formula, RAU-FIPRO™, which is similar to material used in aerospace and racing vehicles. "GENEO is the first fully reinforced polymer window system engineered to provide the necessary structural strength without the need for steel reinforcements, which opens up many new possibilities for both energy and structural performance in commercial projects," Clavel said.
REHAU Snow and Ice Melting Systems With Smart Controls
The innovative REHAU hydronic snow and ice melting (SIM) system quickly and efficiently removes snow and ice from outdoor surfaces. A SIM system minimizes snow removal costs, as well as the need to apply salt or other melting agents that can be corrosive to many surfaces and detrimental to the environment. Installed underneath or within an outdoor ground surface, the system includes RAUPEX® pipe, the EVERLOC® compression-sleeve fitting system and PRO-BALANCE® manifolds. The REHAU Smart Controls SIM module senses everything from slab temperature and moisture to boiler supply and return water temperatures, while also "listening" to the weather forecast. When the control anticipates a storm, it automatically prompts the system to melt at the first sign of snow or ice. The SIM module can be used independently or integrated with a REHAU Smart Controls system.
REHAU Radiant Heating and Cooling Systems
REHAU engineers will be on hand to discuss how radiant heating and cooling systems can be used in combination with downsized air-handling systems to reduce HVAC energy consumption and initial investment costs while increasing thermal comfort in commercial buildings. Providing one of today's most comfortable and efficient types of space conditioning, REHAU radiant heating and cooling systems circulate warm and cool water through RAUPEX crosslinked polyethylene (PEXa) pipe installed in floors, walls or ceilings. A radiant system can be the primary source of heating and cooling or can serve in combination with a traditional HVAC application to improve overall energy efficiency while achieving an ideal level of comfort. Since radiant systems require very moderate supply fluid temperatures typically 100-120°F (38-49°C) in heating mode and 55-60°F (13-16°C) in cooling mode, they are ideally compatible with geothermal equipment and can deliver some of the highest coefficients of performance.
RAUGEO™ Geothermal Ground Loop Systems
Geothermal systems exchange energy from the earth to heat and cool at a fraction of the operating costs of traditional HVAC, with potential energy savings up to 70 percent. The REHAU RAUGEO™ ground loop heat exchange system employs a unique design and innovative materials to provide numerous advantages over traditional geothermal systems. The RAUGEO crosslinked polyethylene (PEXa) piping system offers superior flexibility and abrasion resistance compared to HDPE, while pre-fabricated double U-bends require up to 30 percent less borehole footage than a single HDPE U-bend. RAUGEO ground loops usually begin and end at a balancing manifold that, unlike the typical reverse-return header, provides easy access and allows each ground loop to be individually controlled for system optimization. RAUGEO PEXa pipe and compression-sleeve fittings are recognized by both the International Ground Source Heat Pump Association's (IGSHPA) "Design and Installation Standards 2008 Edition" guide and the CSA Group Standard C448/13 "Design and Installation of Earth Energy Systems."
INSULPEX® Pre-Insulated PEXa Piping Systems
REHAU INSULPEX pre-insulated PEXa piping systems are specially designed for the efficient transfer of hot or chilled fluid through buried pipelines, offering a continuous piping system that minimizes temperature change. When compared with rigid piping systems, INSULPEX reduces installation costs and time thanks to its increased flexibility and longer coil lengths. This piping system is ideal for distribution in local community heating and cooling, geothermal and snow and ice melting applications as well as in process and hydronic piping systems.
For more information, visit Construct Canada 2014 booth No. 1132 or contact: REHAU, 1501 Edwards Ferry Rd., N.E., Leesburg, Va., 20176. Phone: 1.800.247.9445. Fax: 1.800.627.3428. E-mail. Web site: www.na.rehau.com/hpb.
REHAU delivers "Unlimited Polymer Solutions," and is the premium worldwide brand for polymer-based innovations and systems in construction, automotive and industry. The company generates continuous growth through its expertise and innovative capabilities in materials development, systems design and surface technology. Approximately 18,000 employees at more than 170 locations around the world ensure success of the independent, privately held company.