Rheem Expands Products Lines Across All Business Units in 2017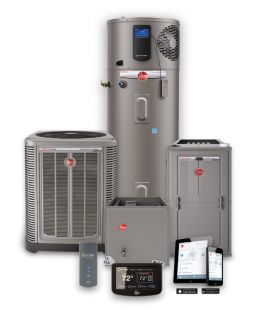 Rheem® is charging into 2017 with a host of new energy efficient heating, cooling and water heating products. The company will feature a number of them at AHR Expo 2017 (#C1336) in its High Efficiency Air + Water Road Show, an expandable 53-foot tractor-trailer that has interactive exhibits, state-of-the-art touch-screen displays and a fully-connected classroom.
The introductions include:
Brand new to the company's HVAC product portfolio is a line of residential Rheem Mini-Split Systems

. An outgrowth of Rheem's recent partnership with Fujitsu General (announced September 2016), these single-zone (33 SEER/14.0 HSPF) and multi-zone (19.7 SEER/10.3 HSPF) heat pumps provide both heating and cooling for year-round comfort. With a push of a button on a remote control, the systems switch from heating to cooling (and vice versa) automatically. Rheem (and Ruud) residential mini-split heat pumps are matched with wall mounted indoor air handlers capable of delivering capacities ranging from 9,000 to 45,000 BTU/h, and up to five zones.

The Rheem Prestige® Series R97V Upflow EcoNet® Enabled Gas Furnaces

just received the ENERGY STAR Most Efficient for 2017 rating from the EPA. The furnaces feature a gas valve, which modulates from 40 to 100 percent capacity and a variable speed blower to provide ultimate comfort, quiet operation and energy savings. This is the second consecutive year these furnaces have received such recognition from the EPA.

The new Rheem Prestige Series Hybrid Electric Water Heater

is equipped with features that not only save energy, but offer convenience and peace-of-mind, such as water leak detection and multiple operating modes. Designed to reduce hot water energy use by up to 73 percent, the Prestige Hybrid Electric Water Heater can provide homeowners with $4,000 in energy cost savings over 10 years, and pay for itself in less than two.

Manufactured to improve hot water performance, the new Rheem Classic® Series Tankless Electric Water Heaters

are super efficient, easy to install point-of-use units. They utilize a self-modulating technology that activates only when water is running, providing hot water faster without wasting energy – and performing at a thermal energy efficiency rate close to 99 percent. The compact design mounts directly to the wall (or under the sink) with common hardware and the unit's external control panel has a digital display so water temperature can be adjusted in one-degree increments from 80 to 140 degrees. Ideal for retrofits, renovations or simply to improve hot water performance in existing spaces.

The Rheem Prestige Series EcoNet Enabled Condensing Tankless Gas Water Heaters

are the latest addition to Rheem's extensive line of innovative, contractorfriendly tankless water heating solutions. These units not only provide continuous hot water but also save up to 1,100 gallons of water per year, and an estimated $1,100 in lifetime energy costs. Compatible with the Rheem EcoNet Smart Home System, these tankless gas water heaters can be part of a smart home solution that reduces up to 60 percent of a home's energy costs.

An industry leader in commercial refrigeration, the Heat Transfer Products Group

(HTPGTM), part of the Rheem family of brands, is introducing a series of new contractor-friendly air cooled condensers. The Quantum Air Remote, the Next-GenII series, and the award-winning Russell® Next-Gen MiniCon Multi-Refrigerant units are all engineered with enhanced features that increase efficiency and durability, as well as improve installation and service times. HTPG will be in the Rheem booth.
"Many signs are pointing toward growth this year and we are ready to help our partners capitalize on that with a full line of innovative, energy efficient solutions," said Bill Alderson, director of marketing, Rheem Manufacturing. "As the only company to manufacture a full portfolio of heating, cooling, water heating, commercial refrigeration and pool/spa heating products, we can offer integrated solutions for contractors that most other manufacturers can't. That presents real opportunities for business development, training and support."