Ringing in the New Year with Caleffi Excellence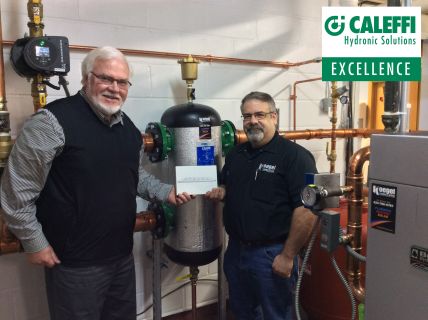 Caleffi Excellence, an ongoing contest entering its third year, allows designers of hydronic or plumbing systems to showcase their work. Starting Jan. 1 and continuing for 12 monthly periods, installers and designers can submit photos and video from installations that incorporate Caleffi products.
Monthly winners are determined by an instant audience poll of attendees to the popular monthly educational webinar series, Coffee with Caleffi™. Winners receive an iPad® mini and become eligible to win the grand prize. Chosen from the 12 monthly winners by a panel of Caleffi executives, the grand prize winner (and their guest) will travel to Italy to see Caleffi World Headquarters and receive a personalized tour of our factories and design facilities.
Says GM Mark Olson, "In 2015 we implemented something new by having monthly winners chosen from industry peers attending Coffee. Surprisingly, unlike in the past when webinar attendees would quickly disconnect after the educational content finished, now 95% or so hang on to view the finalist entries and cast their vote!" Added Olson, "We are eager to learn something from each entry and apparently so are the designers out there."
To learn more, please visit us.caleffiexcellence.com.
Pictured: Dave Skindelien (Midwest Sales & Marketing, Rogers, Minn.) and Kurt Koegel, a recent Caleffi Excellence winner (Koegel Heating Solutions, Miltona, Minn.)
CALEFFI – Creating innovative, superior performance products that help customers live comfortably and economically, while softening their impact on the environment.
For more information, visit Caleffi's Web site at www.caleffi.us, e-mail at sales@caleffi.com, or call (414) 238-2360.