Rinnai Expands Non-Condensing Series With High Performing Tankless Water Heater at Attractive Price Point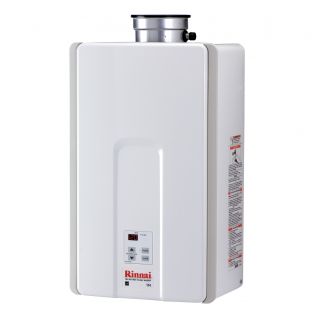 Rinnai, the number-one selling brand of tankless water heaters in the United States and Canada, has expanded its non-condensing line of tankless water heaters with the introduction of the V94 models.
These new models offer consumers the highest performance - nearly ten gallons of output per minute - in the Value series lineup with 199,000 BTU. Available in both natural gas and propane, the V94 non-condensing tankless water heaters offer high performance at an attractive price point, while providing an endless supply of hot water, energy savings, a space-saving design and environmental benefits.
"Our new V94 tankless water heaters are ideal for new residential construction projects, where today's homeowners are demanding increased energy efficiency without compromising comfort or convenience. By going tankless, they're able to enjoy an endless supply of hot water while saving energy," said Susan Mittelbrun, Vice President of Marketing at Rinnai America Corporation.
A recent report from NewHomeSource, a leader in new home topics offering advice from architects, contractors and other experts, ranked energy efficient appliances as one of the top ten features buyers want in new homes.
Other benefits of the V94 non-condensing tankless water heaters include an energy factor of up to .82 EF rating, low NOx emissions and compatibility with pipe cover (PCD03-EWV) and bottom plate (PCD03-SM2-BP).
There are five new models in the V94 value series lineup, which are available this month for purchase through Rinnai wholesale distribution: two V94i models in natural gas and propane for indoor use; a V94Xi available in natural gas only for indoor use; and two V94e models in natural gas and propane for exterior installations.
More details about these models can be found at rinnai.us/water-heater/products.
About Rinnai
Rinnai America Corporation, a subsidiary of Rinnai Corporation in Nagoya, Japan, was established in 1974 and is headquartered in Peachtree City, Ga. Rinnai Corporation manufactures gas appliances including tankless water heaters, a wide range of kitchen appliances and heating and air conditioning units. As the technology leader in its industry, Rinnai is the largest gas appliance manufacturer in Japan and is the No. 1 selling brand of tankless gas water heaters in the United States and Canada. Annual corporate revenues, including those of its subsidiaries, are in excess of $2.8 billion. With a global perspective to create 21st century products for the home and business, Rinnai Corporation commits itself to safety and the pursuit of comfortable lifestyles. For more information about Rinnai's entire product line, visit rinnai.us.