Rinnai Tankless Water Heaters Launch at Lowe's Stores Nationwide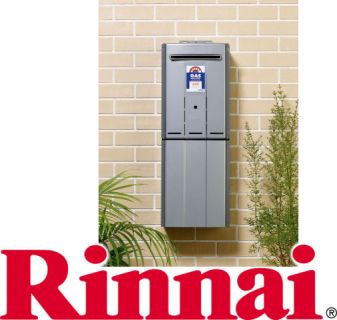 The number-one selling tankless brand in the U.S. partners with FORTUNE® 50Home Improvement Company.
Rinnai America Corporation today announced the launch of tankless water heaters at Lowe's stores nationwide, making it the only gas tankless water heater brand sold and installed through Lowe's in the U.S. Select models and accessories are now available in-store and at Lowes.com/Rinnai, with the full lineup of Rinnai Tankless Water Heaters available through the dedicated Rinnai/Lowe's installation program. Rinnai will be featured in end-caps, in-aisle bays, at Lowes.com and in various key marketing elements.
"Nearly half of all water heaters sold in the United States are purchased through retail. Now more than ever, it's important to meet customers where and how they choose to shop. Through a partnership with one of the most respected brandsin the United States, Lowe's provides an opportunity to enhance consumers' lives by changing the way water is heated," said Tak Sonoda, President at Rinnai America Corporation, the number-one selling brand of tankless water heaters in the United States and Canada.
The installation program offers consumers a free in-home consultation and estimate with a professional install by licensed and insured Rinnai-trained installers. Rinnai local experts will help consumers select the Rinnai Tankless Water heater that is right for their individual needs and budget and perform a top-quality installation.
"Rinnai's full line-up offers consumers and dealers flexibility in installation and budget options," added Sonoda. "By expanding our existing relationship with Lowe's, we're able to bring advanced technology in water heating nationwide and improve the lives of customers."
Rinnai offers condensing, non-condensing and hybrid models for both residential and commercial applications. With indoor, outdoor, natural gas and propane options Rinnai has more than 56 residential and commercial models to meet any and every water heating need.
About Rinnai
Rinnai America Corporation, a subsidiary of Rinnai Corporation in Nagoya, Japan, was established in 1974 and is headquartered in Peachtree City, Ga. Rinnai Corporation manufactures gas appliances including tankless water heaters, a wide range of kitchen appliances and heating and air conditioning units. As the technology leader in its industry, Rinnai is the largest gas appliance manufacturer in Japan and is the No. 1 selling brand of tankless gas water heaters in the United States and Canada. Annual corporate revenues, including those of its subsidiaries, are in excess of $2.8 billion. With a global perspective to create 21st century products for the home and business, Rinnai Corporation commits itself to safety and the pursuit of comfortable lifestyles. For more information about Rinnai's entire product line, visit rinnai.us.