Siegenthaler Kicks off the 12th Consecutive Year of the Coffee with Caleffi™ Webinar Series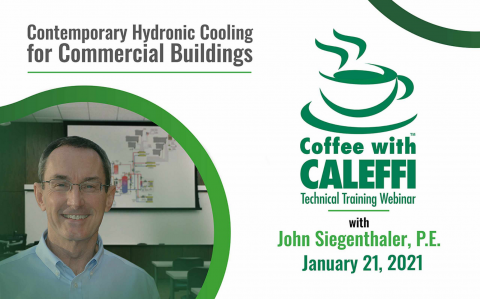 Many HVACpros know that modern hydronic technology offers several advantages when it comes to heating buildings. This also holds true for cooling buildings. During the January webinar contemporary approaches to hydronic-based cooling for commercial and institutional buildings will be explored.
A favorite speaker for the Coffee with Caleffi™ webinars, John Siegenthaler, P.E.,kicks off the 12th consecutive year on Thursday, January 21at 12 noon CST. If you're interested in the full potential of hydronic-based cooling, you will be inspired in this 90 minute extended edition.
A seasoned industry leader and passionate teacher, Siegenthaler shares his over 40 years' experience in the understanding and proper application of water-based engineering principles with our audience. He is the principal of Appropriate Designs and a regular contributor to industry publications.
The monthly educational webinars are free and are intended for contractors, designers and wholesalers. A Certificate of Attendance is emailed to attendees following the event for continuing education audits. Please visit our website at www.caleffi.us for schedule details and registration.