Siegenthaler Kicks off the 2020 Coffee with Caleffi™ Webinar Series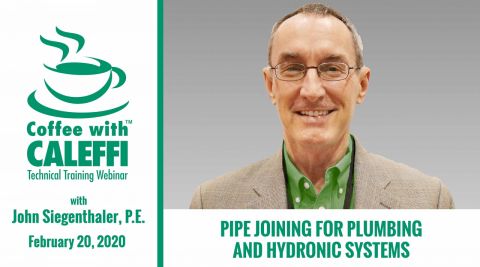 There are hundreds of types of pipe, fittings and joining methods now available which are suitable for plumbing and hydronic heating and cooling systems. A favorite to the webinar series, John Siegenthaler, P.E., will summarize where several types of materials and joining systems are best applied in these systems. He will also discuss basic pipe and fitting standards and nomenclature at the next Coffee with Caleffi™ webinar on Thursday, Feb. 20 at 12 noon CST in an extended 90 minute presentation.
A seasoned industry leader and passionate teacher, Siegenthaler shares his over 35 years' experience in the understanding and proper application of water-based engineering principles with our audience. He is the principal of Appropriate Designs and a regular contributor to industry publications.
The educational webinars are free and are intended for contractors, designers and wholesalers. A Certificate of Attendance is emailed to attendees following the event for continuing education audits. Please visit our website at www.caleffi.us for schedule details and registration.