Step-Saving 3-Way Ball Valves for the Professional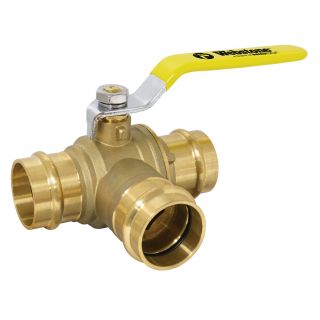 Webstone®, a brand of NIBCO, announces two new Pro-Pal® 3-way ball valves to divert, select, or mix fluids based on your application needs. Flow options include a 90° handle operation to divert or select, or a 180° handle operation to divert, select, or mix. Products are forged from lead-free DZR brass, available in sizes ½" – 2", and feature dual stem seals and press connections that are compatible with popular press tools. Work smarter and save time, labor, and leak paths.
Learn more: www.webstonevalves.com/propal
Founded in 1954, Webstone now operates as a brand of NIBCO and is recognized as an industry leader for innovative design of residential and commercial valves used in plumbing, hydronic, radiant, solar and geothermal applications. These designs focus on time and space-saving concepts that simplify future maintenance and upkeep of all piping systems. Some of the Webstone trademarked and patented items include: Hydro-Core®, The Isolator®, E-X-P®, Pro-Connect™, and Pro-Pal® step-saving valves.