Taco Tags featuring eLinkTM Wins 2019 AHR Expo Software Innovation Award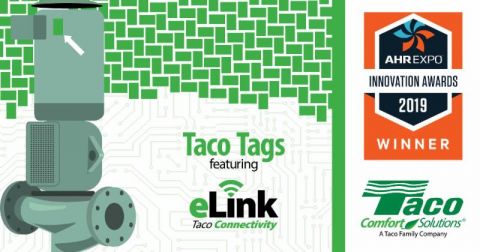 Taco Comfort Solutions' Taco Tags featuring eLink cloud-based product support has won the 2019 AHR Expo Innovation Award for Software. Winners are evaluated by a panel of third-party ASHRAE members based on criteria such as application, innovation, value, and market impact.
Taco Tags provide customers with important Taco product information, right on their mobile device, via NFC technology. Just one tap on the Taco Tag links the customer to eLink, Taco's cloud-based service, which provides product-specific information including product specs, model numbers, replacement parts, instructions sheets, and more.
The small, flat rectangular tags are attached to all Taco commercial pumps, heat exchangers, air and dirt separators, and expansion/storage tanks. Taco Tags provide a wealth of product support in a compact, digital format, easily accessible from your mobile device!