The Industry-Leading FieldServer Building Automation Platform Just Got Smaller and Faster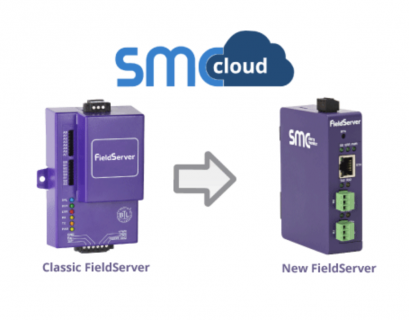 The iconic purple FieldServer cloud and protocol gateway from Sierra Monitor Corporation (OCTQB:SRMC) has a new look and next-generation performance.
FieldServer is an industry-leading cloud and protocol conversion gateway for building automation experts. With support for more than 140 unique equipment protocols, an easy and intuitive user interface, and cloud-based remote access included with every unit, FieldServer is the most powerful and flexible tool for connecting and interworking building automation systems including BACnet, KNX, LonWorks, Modbus and more.
The new FieldServer is 22% smaller than the classic design while quadrupling CPU performance and memory. The industry-standard DIN-rail mounted form-factor supports four unique building automation tools –
BACnet Router – a staple of building automation networks, the BACnet router comes with 1 or 2 serial ports, as well as a Wi-Fi version. The BTL-certified product includes a powerful Explorer function which, when combined with the Cloud-based Remote Access, saves integrators time and money through remote diagnostic capabilities.
BACnet IoT Gateway – A unique product for the market, the IoT Gateway combines a full-featured BACnet Explorer with Cloud access so that customers can monitor and manage any BACnet objects and points through SMC Cloud.
BACnet to Modbus EZ-Gateway – Put any Modbus equipment onto the BACnet network. The EZ Gateway simplifies the most-common 'Modbus to BACnet' protocol translation with an easy, field-programmable user interface.
QuickServer multiple-protocol gateway – Sierra Monitor's most powerful protocol gateway, QuickServer supports over 140 different protocols from manufacturers worldwide. Use the field programmable interface to connect any facilities-based equipment to common building automation networks.
"It's been a pleasure working with all the FieldServer products that have set the standard for gateways in building automation for more than 16 years," said Gordon MacLachlan, founder of Sierra Foothills Integration, a systems integration business focused on building automation.
"It's clear SMC remains committed to the continuous improvement of an already superb product line, and I'm sure all their customers will be joining me in welcoming even more speed and a smaller form factor that's going to buy us some extra real estate on that DIN rail."
For more information about the new FieldServer product suite, please visit: https://www.sierramonitor.com/fieldserver-bacnet-products-suite.