Third Annual Healthcare Symposium – Watts Healthcare LIVE – Offers Robust, Online Expertise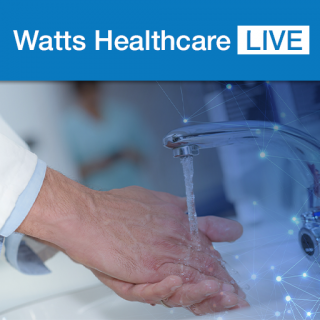 A broad range of allied trade professionals are invited to join a leading panel of experts – beginning Tuesday, Nov. 3 at 10 am ET – during six weekly panel discussions as they address healthcare design and water safety.
Online attendees will be able to connect with their peers in a highly-interactive environment that encourages facility managers, engineers, contractors, and infection control professionals to discuss challenges and opportunities in healthcare design.
Each week, Watts will host a 1.5-hour event starting with a brief presentation, followed by an interactive panel discussion.
Events and topics include:
Nov 3 – What is WICRA and Why You Need One? Dr. Janet Stout, Special Pathogens Laboratory, President
Nov 10 – Preventing Waterborne Infections During COVID-19 Kristen VanderElzen, University of Michigan, Infection Prevention and Epidemiology Project Manager
Nov 17 – Lessons Learned in Ice Storage Richie Stever CLSS-HC, CHFM, University of Maryland Medical Center, Director of Operations and Maintenance
Dec 1 – Next Gen Facilities in a Post-COVID Health Environment Michael Roughan, AIA, ACHA - HDR, Health Principal
Dec 8 – Healthcare Design from a Facility Manager's Perspective John N. Ellis, MBA, CHFM - Intermountain Healthcare, System Director of Facilities Management
Dec 15 – Consequences of Poor Design Christoph Lohr, Healthcare Design Expert
Here's what attendees from past Watts Healthcare Symposiums have had to say:
"Thank you and I want to let you know how much my three engineers and I enjoyed the symposium. The speakers were great and super interesting!"
"What I especially liked about the group was that we were all senior plumbing folks. It was nice to be able to talk and compare notes with people having a similar knowledge base," "Thank you for inviting me to be a part of this. It was a wonderful experience, and your colleagues are exceptional. I learned a great deal, and truly enjoyed everything. "
"Thank you for the opportunity to attend, it was very productive and I made some good contacts that will be helpful in the future."
Weekly giveaways to registrants include an Apple Watch Series 5, Air Pods Pro, a virtual reality headset.
Interested professionals can register at: https://www.watts.com/WHS