U.S. Boiler Company Introduces New K2 Firetube Boiler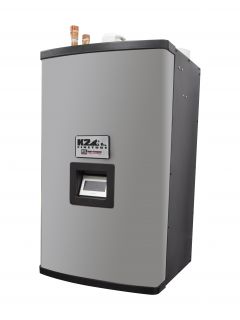 The new K2 Firetube boiler is the newest addition to US Boiler Company's K2 high-efficiency series.
Joining the K2 Watertube boiler, the 95% AFUE K2 Firetube features a stainless steel vertical firetube heat exchanger and is available in six sizes from 85-270 MBH. A combi version is also available (155 MBH). All models can be wall-hung and feature 5:1 modulation. 
The new, easily-installed boiler features an ergonomically-angled touch screen display, which interfaces with the proven Sage2.2™ boiler control system and wireless outdoor rest, while offering "out of the box" high performance.  Additional contractor-friendly features include a 3-in-1 vent connection, top or bottom supply/return/gas connections, a split voltage junction box with fused connection boards, and a full-height side access panel. 
The boiler's dimpled, firetube heat exchanger provides lower pressure drop when compared to water-tube heat exchangers of similar capacity.  The unit comes with a free three-year parts and limited labor warranty, with registration within 90 days of installation. 
As with the K2 Watertube, the K2 Firetube was developed in response to customer feedback.  Installers preferring firetube designs now have a model designed with their input and preferences in mind.  In all, US Boiler now offers stainless steel, condensing models from 80 to 800 MBH, with multiple heat exchanger options.