Uponor launches new thermostat for radiant heating applications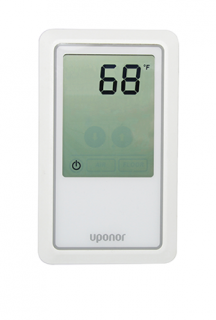 First touchscreen thermostat from Uponor specifically designed for precise temperature control of hydronic radiant systems.
Apple Valley, MN, May 31, 2016 — Uponor North America (Uponor) is launching its first-ever touchscreen radiant thermostat. The new Heat-only Thermostat with Touchscreen (A3100101) is designed for precise temperature control of residential hydronic radiant heating systems based on operative temperature sensing capabilities.
The thermostat can operate a hydronic radiant heating system based on the air sensor measuring operative temperature, a floor sensor (purchased separately), or a combination of both to provide the optimal level of comfort and control. The floor sensor not only provides enhanced thermal comfort, but it also protects the floor's surface from overheating."With this new thermostat, we've taken the best features of Uponor's classic heat-only thermostat and made it better," says Jeff Wiedemann, product manager, Controls at Uponor. "We took the performance and reliability our customers have come to trust with our heat-only radiant thermostat and transferred it to a sleek, aesthetically pleasing design that includes a simple, intuitive touchscreen."
The new Heat-only Thermostat with Touchscreen will replace Uponor's existing Heat-only Thermostat (A3030101). Additionally, by adding the Uponor Floor Sensor (A9010599), the Heat-only Thermostat with Touchscreen is a simpler, more cost-effective solution for users familiar with the SetPoint 501s, Single-stage SetPoint Controller with Floor Sensor (A3041501).
"This new thermostat will streamline our controls offering and allow us to focus on innovative solutions for the residential hydronic radiant heating market," says Wiedemann.