Uponor North America Wins Prestigious International Trade Award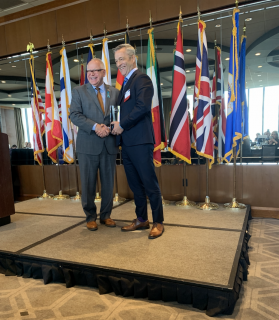 Minnesota Governor Tim Walz and Steve Grove, Commissioner, Minnesota Department of Employment and Economic Development, honored Uponor North America (UNA) with the prestigious International Trade Award for Foreign Direct Investment in a special luncheon ceremony yesterday in Minneapolis.
The annual award recognizes companies that have shown exceptional progress and success in exports to foreign markets, as well as foreign-owned companies, like UNA, that have made significant economic contributions through their investments in Minnesota.
"Each of the Governor's International Trade Award winners represent more than business success – they represent making the world a better place" said Governor Tim Walz.
"During the past 30 years, we increased our footprint in Apple Valley by 680 percent, expanding 10 times to more than 246,000 square feet of space in five buildings," said Bill Gray, UNA president.
"Through further expansion, Uponor opened facilities in Lakeville and Hutchinson. Currently, in North America, we employ over 850 people and occupy just shy of 1 million square feet in Minnesota alone." Through the partnership with the State of Minnesota and, in particular, the Department of Employment and Economic Development, Uponor has received over $1.3 million to increase its footprint and create jobs.
"Our target for job creation from these investments was 231 new employees, but through the investments, we were able to create 395 jobs," said Gray, who also noted that UNA is now Apple Valley's largest employer.
About the Minnesota Trade Office
The Minnesota Trade Office (MTO), an office within the Minnesota Department of Employment and Economic Development (DEED), is focused on increasing state export sales in foreign markets and attracting foreign direct investment to Minnesota. The MTO promotes international trade by providing export information, export education and training, and one-on-one counseling to Minnesota companies that wish to sell manufactured goods and services in the international marketplace. MTO representatives also promote the state's economic interests through seven overseas offices: Canada, Mexico, United Kingdom, European Union, Japan, ASEAN region and Australia.
About the Minnesota Department of Employment and Economic Development (DEED)
The Department of Employment and Economic Development (DEED) is a state principle development agency, promoting business recruitment, expansion and retention, workforce development, international trade and community development.